Staff Accomplishments
Staff accomplishments are presented with the most recent accomplishments listed first. To search for a specific accomplishment, please use the links below.
Search by Staff Name | Search by Keyword
Page 1 of 1
PNNL's Alicia Gorton Named as a 2015 New Face of Civil Engineering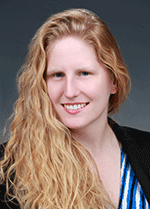 The American Society of Civil Engineers (ASCE) has named Alicia Gorton as a 2015 New Face of Civil Engineering Professional. The announcement was made in December 2014, to nominees representing "the bold and humanitarian future of civil engineering."
Dr. Gorton works on a wide variety of projects at the Lab, including environmental and risk evaluations of the Hanford Site. Alicia initiated the development of a now fully-formed and recognized ASCE Younger Member Group for the Columbia Section.
To learn more, read the ASCE announcement. Congratulations, Alicia, on your achievement and impact in the engineering field.
December 01, 2014
---
Page: 1
Archive of EED staff accomplishments.