Staff Accomplishments
Staff accomplishments are presented with the most recent accomplishments listed first. To search for a specific accomplishment, please use the links below.
Search by Staff Name | Search by Keyword
Page 1 of 5
Dawn Wellman, Kirk Cantrell, Mark Freshley and Mike Truex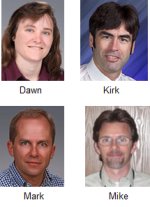 Best Oral Presentation and Paper Award
Dawn, Kirk, Mark and Mike have received the American Nuclear Society's Best Oral Presentation and Paper Award from the WM (Waste Management) conference. The paper, "Technical and Policy Challenges in Deep Vadose Zone Remediation of Metals and Radionuclides," was presented at the conference in 2012, with the award announced in 2013.
This is the second year in a row that Dawn, who served as lead author, has been part of an award-winning oral presentation and paper team at the WM conference. The paper also included contributions from former staff member Evan Dresel.
September 19, 2013
---
Eric Nyberg and Kevin Simmons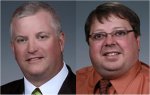 2013 TechConnect Award
Eric and Kevin have been honored with a 2013 TechConnect National Innovation Award for an injection-molding method, Ti-MIM, that can reduce costs and increase the use of titanium and other durable, lightweight and corrosion-resistant metals. Former staff member Scott Weil also contributed to the technology.
The TechConnect organization bestows the awards on top early-stage innovations that are expected to have a positive impact in specific industry sectors.
September 19, 2013
---
Jeff Stevenson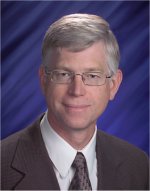 American Ceramic Society Fellow
Jeff has been elected a Fellow of the American Ceramic Society (ACerS), a peer recognition based on outstanding contributions to the ceramic arts or sciences. He will be recognized at the ACerS annual meeting this fall in Montreal.
Jeff is a leader in energy materials research. His work has focused on development, characterization and fabrication of electrical ceramic materials and devices. He's known internationally for his research in solid oxide fuel cell applications.
September 19, 2013
---
Jennifer States
Windpower Engineering&Development 2013 Influencer
Windpower Engineering and Development magazine's 2013 Influencers and Innovators includes EED's Jennifer States. The magazine has been compiling an Influencers and Innovators list for each of the past four years.
Jennifer was recognized as an Influencer, one of ten 2013 honorees who were cited in the June edition for the significant impact they have had on the wind industry.
Image courtesy: Windpower Engineering&Development
September 19, 2013
---
Sam Bryan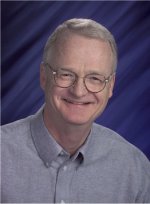 American Chemical Society Fellow
Sam recently has been selected as a Fellow of the American Chemical Society (ACS) for his outstanding achievements and contributions in science and chemistry.
Sam is an internationally recognized expert on environmental contamination monitoring processes and controls. He also is known for his significant educational outreach, his award-winning promotion of chemistry and the chemical sciences in the local area, and development of technical programs for ACS meetings.
September 19, 2013
---
Zimin Nie, Wei Wang, Gordon Graff, Darrell Herling, Landis Kannberg and Dale King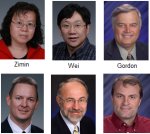 2013 FLC Award
Zimin, Wei, Gordon, Darrell, Landis and Dale have won a Federal Laboratory Consortium Award for Excellence in Technology Transfer. The award is for the development and commercialization of the Mixed-Acid Vanadium Redox Flow Battery.
The battery is the first of its kind to be commercially viable and capable of deployment at grid scale for energy storage. The award is shared with Baowei Chen, FCSD; Peter Christensen, TDO; Derek Maughan, IP Legal Services; former staff members Ed Baker, Soowhan Kim, Liyu Li and Gary Yang; and licensee UniEnergy Technologies.
September 19, 2013
---
Amoret Bunn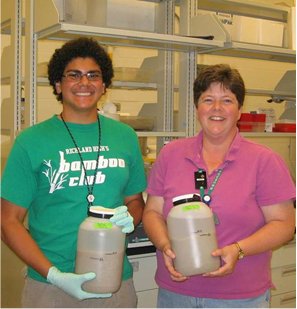 2013 Fitzner-Eberhardt Award
Amoret was selected as a recipient of PNNL's 2013 Fitzner-Eberhardt Award for Outstanding Contributions to Science and Engineering Education.
Throughout her career at PNNL, Amoret has been an advocate for education, internships, and outreach, and her efforts have benefitted students from middle school through college, as well as teachers. She also is involved in college advisory committees and college education departments. Amoret has mentored more than 10 students since 2008 and has received the DOE Outstanding Mentor Award twice.
Photo: Amoret poses with one of her Student Research Apprenticeship Program interns, Alex Gonzalez, prior to starting work on a project.
June 26, 2013
---
Cristina Marinovici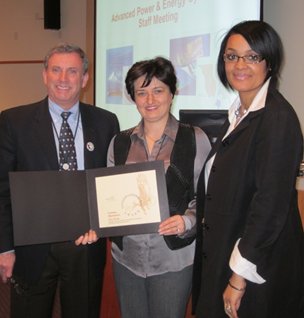 2013 Fitzner-Eberhardt Award
Cristina was selected as a recipient of PNNL's 2013 Fitzner-Eberhardt Award for Outstanding Contributions to Science and Engineering Education.
Cristina has been actively involved in the Institute of Electrical and Electronics Engineers (IEEE) and IEEE's Women in Engineering organization. Through that involvement and her interest in science and engineering education, she has mentored and advised students, via workshops and seminars, about the importance of science, technology, engineering and math (STEM) education. She also has organized and hosted motivational talks by leaders in the fields of science and engineering, and has provided opportunities for students to participate.
Photo: Cristina (center) is presented with the Fitzner-Eberhardt Award by Jeff Estes (lett) and Elaine King of PNNL's STEM Education and Outreach Office.
June 26, 2013
---
Jian Liu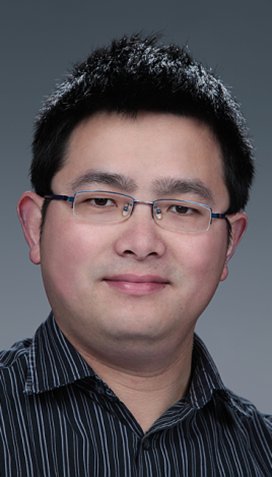 ACS Richard A. Glenn Award
Jian was the lead author of "Selective CO2 capture from flue gas using metal-organic frameworks —" a fixed bed study," a paper that has won the American Chemical Society's 2012 Richard A. Glenn Award. The award was announced in March 2013; the paper was presented at the spring 2012 ACS meeting. Co-authors were EED's Praveen Thallapally and Pete McGrail.
All papers presented in ACS Fuel Chemistry Division symposia are eligible for the award. Session chairs select the most innovative and interesting candidate papers, which are further reviewed by a selection committee. The committee attends the paper presentations before choosing the award recipient.
June 26, 2013
---
Jun Liu, Mike Lilga and Kerry Meinhardt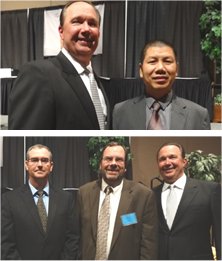 Recognized at PNNL's R&R Banquet for contributions as inventors
At the annual Recognition&Rewards Banquet on April 19, Jun was named PNNL's 2012 Inventor of the Year, and Mike and Kerry were honored for earning Distinguished Inventor of Battelle status.
Over the past two fiscal years, Jun has been named on four U.S. patents, has contributed to 25 U.S. patent applications, and has filed 17 invention reports. In 2012, Mike and Kerry each received their fourteenth U.S. patent, which is the criteria for Distinguished Inventor of Battelle recognition.
Top photo: Jun (right) with Laboratory Director Mike Kluse
Bottom photo: From left, Kerry, Mike and Laboratory Director Mike Kluse
June 26, 2013
---
Archive of EED staff accomplishments.