Staff Accomplishments
Staff accomplishments are presented with the most recent accomplishments listed first. To search for a specific accomplishment, please use the links below.
Recent Accomplishments | Search by Staff Name | Search by Keyword
Page 1 of 1
Janelle Downs: Northwest Scientific Association Board of Directors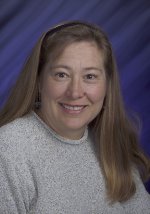 Janelle recently was invited to serve a three-year term on the Board of Directors for the Northwest Scientific Association.
Founded in 1923, the NWSA comprises a network of scientists from a range of disciplines that promotes scientific research and the dissemination of scientific knowledge relevant to northwestern North America. Janelle is a plant ecologist with expertise in landscape and community ecology in arid and semi-arid systems. She has co-authored a number of regional ecological reports, is a past recipient of PNNL's Fitzner-Eberhardt award, and serves as an adjunct faculty member at Washington State University.
July 17, 2012
---
Page: 1
Archive of EED staff accomplishments.