Page 581 of 1045
Staff Accomplishments
Heida Diefenderfer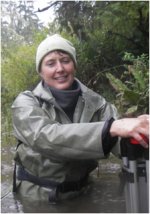 Invited to National Academies Keck Futures Initiative conference
Heida has been invited to the 9th Annual National Academies Keck Futures Initiative (NAKFI) conference, Ecosystem Services: Charting a Path to Food Security that is a Win Win for People and the Environment.
The goal of NAKFI is to facilitate a climate for conducting interdisciplinary research by inviting approximately 150 researchers from diverse backgrounds to an annual "think-tank" style conference. Attendees have the opportunity to compete for seed grants designed to enable the pursuit of connections and ideas spurred by the conference.
Congratulations!
In the photo, Heida surveys a Sitka spruce (Picea sitchensis) swamp on the Columbia River floodplain in southern Washington State.
---
Page 581 of 1045