Page 573 of 1045
Staff Accomplishments
PNNL EIS Teams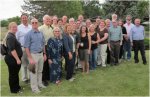 Complete four EISs for proposed nuclear power plants
The Nuclear Regulatory Commission recently published four PNNL-developed Final Environmental Impact Statements for seven proposed nuclear power reactors. This Lab-wide effort involved approximately 100 staff, with many from EED. The impact statements cover proposed new reactors at four existing plant sites:
South Texas Project Electric Generating Station
Vogtle Electric Generating Plant, Georgia
Virgil C. Summer Nuclear Station, South Carolina
Calvert Cliffs Nuclear Power Plant, Maryland.
Photo: Many EED staff contributed to the four EISs. A number of them gathered for a celebration event on June 15.
---
Page 573 of 1045