Page 505 of 1046
Staff Accomplishments
Jun Liu, Wu Xu & Jason Zhang - Microscopy Today 2012 Innovation Award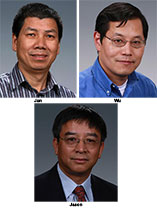 Jun
,
Wu
and
Jason
were part of a team that was recognized with a
Microscopy Today
2012 Innovation Award for a multimodal electrochemical probe for transmission electron microscopy. Much of the development work on the probe was to study battery components in real time in their native environment, during charging and discharging cycles.
Microscopy Today
annually presents innovation awards to recognize advances in microcsopy techniques. Other members of the team were
Chongmin Wang
,
Don Baer
, and
Theva Thevuthasan
of the William R. Wiley Environmental Molecular Sciences Laboratory, and
Daan Hein Alsem
and
Norman Salmon
of Hummingbird Scientific.
---
Page 505 of 1046