Page 917 of 1046
Staff Accomplishments
Salmon survival studied with sound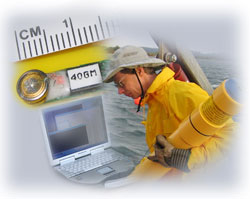 If you thought Walt Disney's Marlin the Clownfish had a hard time finding his son Nemo in the ocean, that was nothing compared to the challenges faced by researchers trying to find tiny juvenile salmon near the mouth of the Columbia River. Driven by a need to understand the behavior and fate of tiny tagged salmon (and funded by the U.S. Army Corps of Engineers), researchers from Pacific Northwest National Laboratory and the National Marine Fisheries Service developed a sophisticated yet simple underwater acoustic fish tracking system.
With the data collected, the researchers can estimate the survival of threatened stocks of young Chinook salmon on the last leg of their journey, from the last dam to the mouth of the Pacific Ocean. Little is known about the behavior of young salmon that pass through the hydropower system and approach the mouth of the Columbia River. Concerns about delayed mortality have been raised for salmon that pass through hydroelectric dams and salmon barged around the dams. This uncertainty must be resolved so that state, tribal, and federal agencies can better balance the needs for electricity, taxpayers' dollars, and salmon survival.
Salmon Sensors
The innovative acoustic system consists of microtransmitters and autonomous receivers. The transmitters generate signals optimized for detection in the acoustically noisy Columbia River. The tiny (0.02 ounces) biologically-inert transmitters were surgically implanted into more than 900 salmon. After recovering from this simple procedure, the tagged salmon were released through the smolt bypass pipe at Bonneville Dam.
PNNL and National Marine Fisheries Service researchers moored the rugged, self-contained autonomous receivers on the treacherous bar at the mouth of the Columbia River, where powerful ocean waves collide with the outgoing river current and tidal flow, and a few miles upstream.
"These nodes were designed to withstand very harsh conditions," said PNNL researcher Geoff McMichael. The nodes "listen" for the transmitters in the juvenile salmon passing by. Each node records the time the fish passes along with behavioral data on a removable Compact Flash card, just like those found in digital cameras. Using a sophisticated yet simple encoding method, the microacoustic tags produce very clean datasets. "Datasets collected by other equipment are often plagued with huge numbers of false positives. These systems record a tag code when, in reality, it was background noise of a similar frequency and duration," said McMichael.
Next Steps
By combining the data from the fish detected with other data such as river flows, time of day, and tides, the researchers can provide the Corps with insights into the ways juvenile salmon interact with the environment during the final stage of their perilous seaward migration. The data from the underwater acoustic system will be used to find new ways to increase the survival of salmon and to minimize adverse impacts of the hydropower system.
Contact: Charlie Brandt, Resource and Ecosystems Management Product Line Manager
---
Page 917 of 1046