Page 705 of 1045
Staff Accomplishments
Technology Offers Promise of Rapid Detection for Pesticide Exposure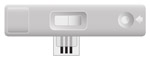 Waiting weeks for your test results is the last thing on your mind if you have been exposed to high levels of an insecticide. That is why researchers at the Pacific Northwest National Laboratory (PNNL) are developing a quick way to test for chemical residues in the body. The scientists are exploring whether saliva can be used as a substitute for blood to assess a person's exposure.
This potentially non-invasive method would eliminate the need to use a needle to collect a blood sample. If successful, this test would significantly reduce the time it takes to get the results from weeks to just 3-4 minutes. Chemical insecticide exposure is an ongoing concern for agricultural workers and people living near farms and orchards.
"An effective monitoring system will make sure the recommended guidelines for exposures are not exceeded." said PNNL scientist Dr. Charles Timchalk. "By monitoring agricultural workers and getting the results back quickly, we can do that."
This research stems from a laboratory research project that began more than 7 years ago. That initial project focused on developing sensor technologies for detecting lead in children's saliva.
"That research shows we can apply it to other chemical exposures," said Timchalk.
Quick and painless method
The current research is focused on a class of insecticides known as organophosphorus pesticides. These pesticides can be beneficial by reducing crop losses. However, high exposure due to accidents and misuse can cause serious health problems.
Current methods of testing require taking a blood sample and sending it to a laboratory for analysis. The turnaround time can be lengthy. In addition, the process is complicated and expensive. For example, people may not have the time to take off work to go through this type of testing.
Also, collecting blood samples involves needles, something many people prefer to avoid, no matter what age. If a parent has ever taken their child to the doctor for vaccinations, they know how "painful" this process can be. If successful, PNNL's non-invasive approach to testing can be done more easily, especially on infants and children.
The biosensors under development for this project take advantage of the recent progress at PNNL on nanobiotechnology. The sensors for monitoring pesticide exposure are based on measurement of neuro-enzyme (cholinesterase) activity and the concentration of certain molecules, called metabolites, in blood and saliva. This system requires just a few drops of a sample.
"The hypothesis is that the sensor can detect very small concentrations of the pesticide metabolites in saliva, which can then be used to determine the amount of dose received," said PNNL scientist Dr. Yuehe Lin.
To create the biosensor for monitoring the neuro-enzyme activity, the research team added saliva samples to the tips of the carbon nanotubes. The nanotubes were grown from a conductive material that acted as an electrode (or conductor). The tips of the aligned carbon nanotubes protrude through an insulation layer, allowing them to come in contact with the sample.
The biosensor for monitoring of pesticide metabolite concentration is based on immunoassay, a similar detection principle as a pregnancy test strip. Electroactive nanoparticles are used as labels to enhance the sensitivity and selectivity of the biosensor.
Both the biosensors for measuring neuro-enzyme activity and metabolite concentration are connected to a hand-held device that can be used in the field. If a person has been exposed to pesticides, their neuro-enzyme activities decrease. This sends an electrical signal to the hand-held monitor. The signal is converted into activity of the neuro-enzyme, which can be read on the monitor screen.
The biosensor for pesticide metabolite will measure the metabolite concentration. The higher the concentration, the higher the electrical signal will be generated from the biosensor. The researchers found that the results from simultaneous measurement of neuro-enzyme activity and metabolite concentration are complementary. "The frequency of false alarms is reduced because we are using more than one measurement method," said Lin.
Nerve agents just one of many applications
If validated, this technology can be deployed to public health facilities, to field hospitals after a natural disaster has occurred, and to developing countries.
"Once developed, the new technology could be adapted to test for a variety of contaminants. We foresee its usefulness in the case of a bioterrorist attack," said Timchalk.
In October 2006, PNNL received a 5-year $3.5M grant from the National Institutes of Health. This project involves developing a portable monitor device to rapidly detect exposure to nerve agents using another monitoring approach: biosensors for detecting protein biomarkers. Other uses could include assessment of common health concerns, such as cholesterol or alcohol, and monitoring for industrial chemicals, radioactive substances, and toxic metals.
By determining the make up of chemicals in the body, health care workers can treat patients effectively. In addition, health departments can more effectively track chronic diseases that may be associated with certain chemical exposures.
Contact: Chuck Timchalk, Ph.D. or Yuehe Lin, Ph.D.
---
Page 705 of 1045