Page 594 of 1045
Staff Accomplishments
Sarah Widder - New Face in Engineering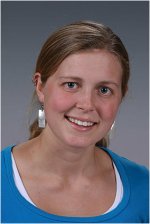 Sarah Widder has been named a "New Face in Engineering" by the National Engineers Week Foundation. A coalition of engineering societies, major corporations and government agencies, the foundation members nominate colleagues two-to-five years out of school whose interesting and unique work has had an impact on society. A research paper Sarah published in 2009,
"Policy Options for Nuclear Waste Management: Sustainable Solutions for Expanded Nuclear Energy,"
has served as vital background for the American Institute of Chemical Engineers' Nuclear Engineering Division, and helps set the stage for impacting important U.S. policy decisions on energy. Congratulations!
---
Page 594 of 1045