Michelle Niemeyer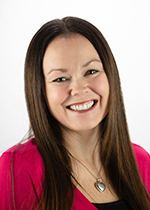 Pacific Northwest National Laboratory
PO Box 999
Richland, WA 99352
(509) 375-4468
Send Email
Biography
Michelle is the project manager for the Appliance and Commercial Equipment Standards (ACES) program. Before taking on the role of project manager, Michelle was supporting ACES by analyzing life-cycle benefits and costs, forecasting equipment shipments, deriving national NPV and energy savings, and estimating the cumulative emissions reduction and social cost of carbon of more efficient technologies. Her research has contributed to multiple rulemaking documents, including commercial water heaters, fluorescent lamp ballasts, metal halide light fixtures, commercial refrigeration equipment, automatic commercial ice makers, beverage vending machines, and single packaged vertical units. Michelle is also the author of PNNL's annual economic impact report.
Aside from ACES, Michelle has provided support on a variety of other projects including research addressing the buildings sector, energy intensity indicators, transactive energy valuation, and NEPA-related socioeconomic, environmental justice, and land use impact reviews as well as need for power, and benefit-cost analysis of nuclear power plant licensing
Prior to joining PNNL in 2008, she worked for the Texas AgriLife Extension Service as a program specialist in fiscal and economic impact analysis. Her responsibilities primarily included economic modeling and data analysis support for outreach programs and applied research designed to improve public-sector, community, and business decision-making.
Research Interests
Research Interests:
Data Analysis
Input-Output Modeling
Life-Cycle Cost Analysis
Regional Economic Impact Analysis
Benefit/Cost and Regulatory Analysis
NEPA-Related Analysis (Socioeconomics, Demographics, Land Use Planning, Environmental Justice)
Education and Credentials
B.S., Agricultural Economics, Texas A&M University
M.S., Agricultural Economics, Texas A&M University
PNNL Publications
2019
Bender S.R., J.M. Niemeyer, M.R. Weimar, and T.D. Hardy. 2019. "Considerations for Commercial Building Participation in a Transactive Energy System." In IEEE Power & Energy Society Innovative Smart Grid Technologies Conference (ISGT 2019), February 18-21, 2019, Washington DC. Piscataway, New Jersey:IEEE. PNNL-SA-137666. doi:10.1109/ISGT.2019.8791602