Jonathan Male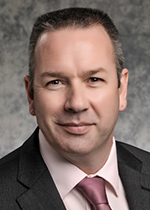 Pacific Northwest National Laboratory
PO Box 999
Richland, WA 99352
(509) 375-5915
Send Email
Biography
Dr. Jonathan Male joined PNNL in December 2006 after five years with General Electric Previously, he developed programs in heterogeneous and homogeneous catalysts worked at the GE Global Research Center in Niskayuna, New York. While at PNNL he has held a variety of research and management positions, including Lab Relationship Manager for Bioenergy, Management and Operational detail with the Office of Biomass Program, and Scientist with projects in aftertreatment catalysts, scintillators, and catalysts for the production of renewable chemicals.
Recently Jonathan came back to PNNL from over six years in the role of the Director of the Bioenergy Technologies Office (BETO) in the Office of Energy Efficiency and Renewable Energy (EERE) at the Department of Energy (DOE). As Director of BETO, he led the Office's work to lower costs, reduce technology uncertainty, and accelerate research and development of bioenergy and renewable chemicals technologies in the emerging bioeconomy.
Jonathan has more than 20 years of research experience in catalysts, inorganic materials, high throughput experimentation, greenhouse gas emissions reduction technologies, production of chemicals, and fuels. He has numerous publications, patents, and presentations in these fields.
Dr. Male received his Bachelor of Science degree in Applied Chemistry from the University of Greenwich, England, and his Ph. D. in Organometallic Chemistry at Simon Fraser University, Canada.
Research Interests
Affordable technologies for the reuse of carbon
Molecular efficient reactions
Heterogeneous catalysis
Development of lower carbon intensity polymers
Reliable integration and scaling-up of processes
High-throughput experimentation
PNNL Publications
2021
Male J.L., M. Kinter-Meyer, and R.S. Weber. 2021. "The U.S. energy system and the production of Sustainable Aviation Fuel from clean electricity." Frontiers in Energy Research 9. PNNL-SA-165142. doi:10.3389/fenrg.2021.765360
2020
Akhade S.A., N. Singh, O.Y. Gutierrez-Tinoco, J.A. Lopez-Ruiz, H. Wang, J.D. Holladay, and Y. Liu, et al. 2020. "Electrocatalytic Hydrogenation of Biomass-Derived Organics: A review." Chemical Reviews 120, no. 20:11370-11419. PNNL-SA-155470. doi:10.1021/acs.chemrev.0c00158
2014
Boardman R.D., K.G. Cafferty, C. Nichol, E.M. Searcy, T. Westover, R. Wood, and M.D. Bearden, et al. 2014. Logistics, Costs, and GHG Impacts of Utility Scale Cofiring with 20% Biomass. PNNL-23492. Richland, WA: Pacific Northwest National Laboratory. Logistics, Costs, and GHG Impacts of Utility Scale Cofiring with 20% Biomass
2013
Wang H., J.L. Male, and Y. Wang. 2013. "Recent advances in hydrotreating of pyrolysis bio-oil and its oxygen-containing model compounds." ACS Catalysis 3, no. 5:1047-1070. PNNL-SA-93343.
2012
2011
Fox B., A.W. Sun, H.B. Dauer, J.L. Male, M.L. Stewart, D.R. Tyler, and D.R. Tyler. 2011. "Enhanced Oxidative Desulfurization of Model Fuels Using a Film-Shear Reactor." Fuel 90, no. 2:898-901. PNWD-SA-8868. doi:10.1016/j.fuel.2010.10.023
Lebarbier V.M., D. Mei, D. Kim, A. Andersen, J.L. Male, J.E. Holladay, and R.J. Rousseau, et al. 2011. "Effects of La2O3 on the mixed higher alcohols synthesis from syngas over Co catalysts: A combined theoretical and experimental study." Journal of Physical Chemistry C 115, no. 35:17440-17451. PNNL-SA-79514. doi:10.1021/jp204003q
2010
Matson D.W., G.L. Graff, J.L. Male, B.R. Johnson, Z. Nie, A.G. Joly, and L.C. Olsen. 2010. "Synthesis and Screening of Thin Films in the CeCl3-CeBr3 System for Scintillator Applications." Thin Solid Films 518, no. 12:3194-3198. PNNL-SA-64097. doi:10.1016/j.tsf.2009.09.015
2008
Sapochak L.S., A.B. Padmaperuma, X. Cai, J.L. Male, and P.E. Burrows. 2008. "Inductive effects of diphenylphosphoryl moieties on carbazole host materials: Design rules for blue electrophosphorescent organic light-emitting devices." Journal of Physical Chemistry C 112, no. 21:7989-7996. PNNL-SA-58590.