Alice Orrell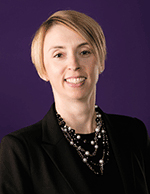 Pacific Northwest National Laboratory
PO Box 999
Richland, WA 99352
(509) 372-4632
Send Email
Biography
Alice Orrell joined PNNL in September 2008 as an Energy Analyst in the Energy Policy & Economics group. She provides renewable energy resource assessments and wind energy project development support for DOD clients and distributed wind market research and analysis for DOE.
As part of a team that evaluates DOD sites for wind, solar, geothermal, biomass, waste-to-energy, and ocean energy, Alice is responsible for the wind energy resource assessments and wind project development efforts. She has helped to evaluate over 75 DOD sites for wind energy potential and has managed the installation of three meteorological towers on DOD properties.
Alice is the lead author of the annual Distributed Wind Market Report produced for DOE. The Market Report serves as a primary information source that helps manufacturers, installers, developers, policy makers, and other industry players better understand the US and global distributed wind markets.
Alice is a Professional Engineer in the State of Washington and worked in the power industry prior to joining PNNL, both as an independent consultant in the wind power industry and as an engineer for an Engineering, Procurement, and Construction contractor designing natural gas fueled power plants.
Research Interests
Wind energy resource assessments, project development, and market research
Excel pro forma modeling and sensitivity analysis
Renewable energy policy
Stakeholder engagement
Education and Credentials
B.S., Mechanical Engineering, University of Vermont
M.B.A., Business Administration, University of Washington
Affiliations and Professional Service
Alice is actively involved in the Society of Women Engineers and the industry networking group Women of Wind Energy.
PNNL Publications
2023
Bhatti B., A.P. Reiman, D.S. Boff, S.E. Barrows, and A.C. Orrell. 2023. "Valuation of Distributed Wind Turbines Providing Multiple Market Services." In IEEE Power & Energy Society Innovative Smart Grid Technologies Conference (ISGT 2023), January 16-19, 2023, Washington, DC, 1-5. Piscataway, New Jersey:IEEE. PNNL-SA-174822. doi:10.1109/ISGT51731.2023.10066377
Phillips T., L.D. Marinovici, C. Rieger, and A.C. Orrell. 2023. "Scalable Resilience Analysis through Power Systems Co-Simulation." IEEE Access 11. PNNL-SA-178406. doi:10.1109/ACCESS.2023.3246486
2022
Bhattarai B.P., L.D. Marinovici, P.S. Sarker, and A.C. Orrell. 2022. "MIRACL Co-Simulation Platform for Control and Operation of Distributed Wind in Microgrid." IET Smart Grid 5, no. 2:90-100. PNNL-SA-161946. doi:10.1049/stg2.12054
Marinovici L.D., T. Phillips, C. Rieger, A.C. Orrell, B.P. Bhattarai, S. Poudel, and P.S. Sarker, et al. 2022. MIRACL Co-Simulation Platform Lab assets and tools integration. PNNL-33385. Richland, WA: Pacific Northwest National Laboratory. MIRACL Co-Simulation Platform Lab assets and tools integration
Preziuso D.C., A.C. Orrell, and C. Godreau. 2022. A Framework for Characterizing the Risk of Ice Fall and Ice Throw from Small Wind Turbines. PNNL-33214. Richland, WA: Pacific Northwest National Laboratory. A Framework for Characterizing the Risk of Ice Fall and Ice Throw from Small Wind Turbines
Preziuso D.C., A.C. Orrell, and E. Lantz. 2022. "Categorizing Distributed Wind Energy Installations in the United States to Inform Research and Stakeholder Priorities." Energy, Sustainability and Society 12, no. 1:Art. No. 31. PNNL-SA-170639. doi:10.1186/s13705-022-00357-1
Reiman A.P., T. Ramachandran, and A.C. Orrell. 2022. "Data-Driven Generic Turbines for Distributed Wind Modeling, Optimization, and Economic Studies." In IEEE Power & Energy Society Innovative Smart Grid Technologies Conference (ISGT 2022), April 24-28, 2022, New Orleans, LA, 1-5. Piscataway, New Jersey:IEEE. PNNL-SA-157664. doi:10.1109/ISGT50606.2022.9817476
Sheridan L.M., C. Phillips, A.C. Orrell, L.K. Berg, H. Tinnesand, R.K. Rai, and S. Zisman, et al. 2022. "Validation of Wind Resource and Energy Production Simulations for Small Wind Turbines in the United States." Wind Energy Science 7, no. 2:659-676. PNNL-SA-166869. doi:10.5194/wes-7-659-2022
2021
Barrows S.E., J.S. Homer, and A.C. Orrell. 2021. "Valuing Wind as a Distributed Energy Resource: A Literature Review." Renewable & Sustainable Energy Reviews 152. PNNL-SA-166330. doi:10.1016/j.rser.2021.111678
2020
Foster N., A.C. Orrell, J.S. Homer, and J.D. Tagestad. 2020. "The "Perfect Storm" for Distributed Wind Markets." Renewable Energy 145. PNNL-SA-120586. doi:10.1016/j.renene.2019.05.058
Reiman A.P., J.S. Homer, B.P. Bhattarai, and A.C. Orrell. 2020. "Quantifying Technical Diversity Benefits of Wind as a Distributed Energy Resource." In IEEE Power & Energy Society Innovative Smart Grid Technologies Conference (ISGT 2020), February 17-20, 2020, Washington, DC, 1-5. Piscataway, New Jersey:IEEE. PNNL-SA-146894. doi:10.1109/ISGT45199.2020.9087665
2017