Naomi Miller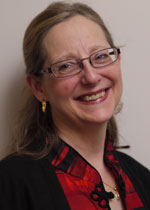 Pacific Northwest National Laboratory
Portland Office
620 SW FIFTH AVE, SUITE #810
Portland, OR 97204
(503) 417-7571
Send Email
Biography
Naomi Miller has enjoyed 13 years at Pacific Northwest National Laboratory in Portland OR as a designer/scientist in the advanced lighting team. Working to bridge the gap between technology and application, she is promoting the wise use of LEDs, and working with industry to overcome the hurdles facing this technology and its control. Some people call her The Flicker Queen, some with humor, some without.
Recent work includes publishing an extensive literature review on temporal light modulation (TLM, aka "flicker") in Lighting Research & Technology. She and PNNL colleagues conducted a human subjects study on the visibility of two forms of flicker: the stroboscopic and the phantom array effects. That study showed clear response differences between the two, and was able to identify TLM-sensitive subjects who are more likely to experience headaches, migraines, nausea, or other negative responses from TLM. The results have been submitted to a journal for review, and it is hoped will lead to a metric that will help identify and mitigate problematic TLM.
Current work focuses on discomfort glare, examining human responses to glare sources in different areas of the visual field, and the effect of spectral power distribution on discomfort. Another interest is whether spatial frequency of LED arrays contributes to discomfort glare. In addition, she is an active member of CIE and IES committees developing recommendations on outdoor glare, flicker, and light's effect on human health.
Her background is in lighting design, applications engineering, and encouraging the use of energy-effective lighting. Over 30 architectural lighting design awards hang on her wall, for projects ranging from churches to university science buildings, boutique hotels, supermarkets, and even simple parking lots. She chaired the Illuminating Engineering Society's (IES) Quality of the Visual Environment committee for 8 years and was a principal member of the writing team for the IES's Light + Design: A Guide to Designing Quality Lighting for People and Buildings. She is both a Fellow of the IES and the IALD and served on the Illuminating Engineering Society's Board of Directors for 4 years.
Research Interests
Lighting quality
The aging eye
Health effects of light and dark
Glare and flicker issues
Dark skies
Sustainability and energy efficiency
Education and Credentials
BS in Art and Design (Architecture), Massachusetts Institute of Technology, 1978
MS in Lighting, Rensselaer Polytechnic Institute, 2000
PNNL Publications
2023
Miller N.J., G. Campiglia, C. Feustel, J. Dubose, and C. Zimring. 2023. Emory University Cognitive Empowerment Program. PNNL-33859. Richland, WA: Pacific Northwest National Laboratory. Emory University Cognitive Empowerment Program
2022
Abboushi B.K., and N.J. Miller. 2022. "What to Measure and Report in Studies of Discomfort Glare from Pedestrian-Scale Luminaires?." Lighting Research & Technology. PNNL-SA-161982. doi:10.1177/14771535221087133
Hickcox K.S., S. Fotios, B.K. Abboushi, and N.J. Miller. 2022. "Correspondence: A new two-step approach for evaluating discomfort from glare." Lighting Research & Technology 54, no. 1:91-92. PNNL-SA-167574. doi:10.1177/14771535211071133
2021
Kyba C., A. Ruby, H.U. Kuechly, B.R. Kinzey, N.J. Miller, J. Sanders, and J. Barentin, et al. 2021. "Direct measurement of the contribution of street lighting to satellite observations of nighttime light emissions from urban areas." Lighting Research & Technology 53, no. 3:189-211. PNNL-SA-146904. doi:10.1177/1477153520958463
2020
Baier R., E. McCreedy, N.J. Miller, E.N. Waggoner, S. Stringer, D.R. Gifford, and R. Uth, et al. 2020. "Impact of Tuned Lighting on Skilled Nursing Center Residents' Sleep." Senior Housing & Care Journal 28, no. 1:3-9. PNNL-SA-154726.
2019
Miller N.J., and F.A. Leon. 2019. "Fighting Flicker." LD+A Magazine 49, no. 2:16-20. PNNL-SA-140257.
2018
Miller N.J., and B.R. Kinzey. 2018. "Home Nighttime Light Exposures: How much are we really getting?." LD+A Magazine. PNNL-SA-131837.
2017
2016
2015
2011
Lehman B., A. Wilkins, S. Berman, M.E. Poplawski, and N.J. Miller. 2011. "Proposing Measures of Flicker in the Low Frequencies for Lighting Applications." LEUKOS - The Journal of the Illuminating Engineering Society of North America 7, no. 3:189-195. PNNL-SA-77242.
Poplawski M.E., and N.J. Miller. 2011. "Exploring Flicker in Solid State Lighting: What you Might Find, and How to Deal With It." In Illuminating Engineering Society of North America Annual Conference, October 31-November 1, 2011, Austin, Texas, 52-56. New York, New York:Illuminating Engineering Society of North America (IES). PNNL-SA-83201.