Naomi Miller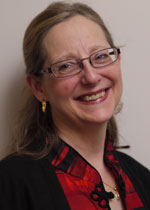 Pacific Northwest National Laboratory
Portland Office
620 SW FIFTH AVE, SUITE #810
Portland, OR 97204
(503) 417-7571
Send Email
Biography
Naomi Miller has been a Senior Lighting Research Scientist since joining PNNL in 2009. Ms. Miller's work focuses on bridging the knowledge gap between technology and application. She works with clients and stakeholders to overcome the hurdles facing the adoption of energy efficient lighting products. Her research also focuses on lighting quality and the human impacts of light.
Prior to coming to PNNL, Ms. Miller was the Principal of Naomi Miller Lighting Design in Troy, New York. With over 30 architectural lighting design awards, Ms. Miller is a nationally recognized expert in the field of lighting. She chaired the Illuminating Engineering Society's (IES) Quality of the Visual Environment committee for 8 years and was a principal member of the writing team for the IES's Light + Design: A Guide to Designing Quality Lighting for People and Buildings. She currently serves on the Illuminating Engineering Society's Board of Directors and is both a Fellow of the IES and the International Association of Lighting Designers (IALD)
Research Interests
Lighting quality,
Health effects of light and light quality
Lighting energy efficiency & sustainability
Education and Credentials
BS in Art and Design (Architecture), Massachusetts Institute of Technology, 1978
MS in Lighting, Rensselaer Polytechnic Institute, 2000
PNNL Publications
2019
Leon F.A., J.A. McIntosh, A.J. Rutz, N.J. Miller, and M.P. Royer. 2019. Characterizing Photometric Flicker - Handheld Meters. PNNL-28203. Richland, WA: Pacific Northwest National Laboratory. Characterizing Photometric Flicker - Handheld Meters
Miller N.J., and F.A. Leon. 2019. "Fighting Flicker." Lighting Design plus Application 49, no. 2:16-20. PNNL-SA-140257.
2017
Kinzey B.R., T.E. Perrin, N.J. Miller, M. Kocifaj, M. Aube, and H.A. Lamphar. 2017. An Investigation of LED Street Lighting's Impact on Sky Glow. PNNL-26411. Richland, WA: Pacific Northwest National Laboratory. An Investigation of LED Street Lighting's Impact on Sky Glow
Miller N.J., F.A. Leon, and J. Davis. 2017. CALiPER Report 24 Supplemented: Photometric Testing, Laboratory Teardowns, and Accelerated Lifetime Testing of OLED Luminaires. PNNL-25932-Sup1. Richland, WA: Pacific Northwest National Laboratory. CALiPER Report 24 Supplemented: Photometric Testing, Laboratory Teardowns, and Accelerated Lifetime Testing of OLED Luminaires
2016
2015
2014
Miller N.J., T.E. Perrin, and M.P. Royer. 2014. CALiPER Report 21.3: Cost-Effectiveness of Linear (T8) LED Lamps. PNNL-23378. Richland, WA: Pacific Northwest National Laboratory. CALiPER Report 21.3: Cost-Effectiveness of Linear (T8) LED Lamps
Miller N.J., T.E. Perrin, M.P. Royer, A. Wilkerson, and T.A. Beeson. 2014. DOE CALiPER Program, Report 21.2: Linear (T8) LED Lamp Performance in Five Types of Recessed Troffers. PNNL-23366. Richland, WA: Pacific Northwest National Laboratory. DOE CALiPER Program, Report 21.2: Linear (T8) LED Lamp Performance in Five Types of Recessed Troffers
2013
2012
2011
Lehman B., A. Wilkins, S. Berman, M.E. Poplawski, and N.J. Miller. 2011. "Proposing Measures of Flicker in the Low Frequencies for Lighting Applications." LEUKOS - The Journal of the Illuminating Engineering Society of North America 7, no. 3:189-195. PNNL-SA-77242.
Miller N.J. 2011. Demonstration of LED Retrofit Lamps at the Jordan Schnitzer Museum of Art. PNNL-20711. Richland, WA: Pacific Northwest National Laboratory. Demonstration of LED Retrofit Lamps at the Jordan Schnitzer Museum of Art
Poplawski M.E., and N.J. Miller. 2011. "Exploring Flicker in Solid State Lighting: What you Might Find, and How to Deal With It." In Illuminating Engineering Society of North America Annual Conference, October 31-November 1, 2011, Austin, Texas, 52-56. New York, New York:Illuminating Engineering Society of North America (IES). PNNL-SA-83201.
Richman E.E., B.R. Kinzey, and N.J. Miller. 2011. Laboratory Evaluation of LED T8 Replacement Lamp Products. PNNL-20404. Richland, WA: Pacific Northwest National Laboratory. Laboratory Evaluation of LED T8 Replacement Lamp Products
2010