Karan Kalsi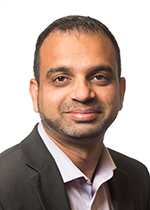 Pacific Northwest National Laboratory
PO Box 999
Richland, WA 99352
(509) 375-5904
Send Email
Biography
Dr. Kalsi is currently a power systems research engineer at the Pacific Northwest National Lab, Richland, WA, USA. He is the lead investigator on Department of Energy funded research to develop efficient, reliable and secure control strategies for Smart Grid assets. He is the principle investigator on the topic of developing future power grid control paradigms as part of the laboratory's Future Power Grid Initiative. He is the Co-principle investigator on EED SEED project related to modeling and controls for distributed energy resources in microgrids. Karanjit is also actively involved with IEEE including being the 2011 Chair of the IEEE Richland Section Graduates of the Last Decade (GOLD) Affinity Group and was recently elected as the 2012 Vice-chair of Technical Activities and Outreach of the IEEE Richland Section Power and Energy Society.
Research Interests
Power system stability and control
Power system dynamic modeling and analysis
Integration and control of distributed energy resources Power system market optimization problems
Education and Credentials
PhD, Electrical and Computer Engineering, Purdue, University, August 2010
M.Eng, Electronic and Electrical Engineering, University of Sheffield, United Kingdom, June 2006
PNNL Patents
U.S. Patent No. 10,210,568, February 19, 2019, "COORDINATION OF THERMOSTATICALLY CONTROLLED LOADS WITH UNKNOWN PARAMETERS".
U.S. Patent No. 9,762,060, September 12, 2017, "DISTRIBUTED HIERARCHICAL CONTROL ARCHITECTURE FOR INTEGRATING SMART GRID ASSETS DURING NORMAL AND DISRUPTED OPERATIONS".
PNNL Publications
2019
Reiman A.P., A. Somani, M.E. Alam, P. Wang, D. Wu, and K. Kalsi. 2019. "Power Factor Correction in Feeders with Distributed Photovoltaics Using Residential Appliances as Virtual Batteries." IEEE Access 7. PNNL-SA-142759. doi:10.1109/ACCESS.2019.2928568
Wu D., N. Radhakrishnan, X. Ke, S. Huang, A.P. Reiman, and K. Kalsi. 2019. Coordinated PEV Charging for Distribution System Management. PNNL-27710. Richland, WA: Pacific Northwest National Laboratory. Coordinated PEV Charging for Distribution System Management
2018
Kundu S., J. Hansen, J. Lian, and K. Kalsi. 2018. "Assessment of Optimal Flexibility in Ensemble of Frequency Responsive Loads." In IEEE International Conference on Smart Grid Communications, October 23-27, 2017, Dresden, Germany, 399-404. Piscataway, New Jersey:IEEE. PNNL-SA-126289. doi:10.1109/SmartGridComm.2017.8340742
Lian J., Y. Sun, K. Kalsi, S.E. Widergren, D. Wu, and H. Ren. 2018. Transactive System: Part II: Analysis of Two Pilot Transactive Systems using Foundational Theory and Metrics. PNNL-27235 Part 2. Richland, WA: Pacific Northwest National Laboratory. Transactive System: Part II: Analysis of Two Pilot Transactive Systems using Foundational Theory and Metrics
Lian J., Y. Tang, J.C. Fuller, K. Kalsi, and N. Wang. 2018. "Behind-the-meter Transctive Control Approach for Home Energy Management System." In IEEE Power & Energy Society General Meeting (PESGM 2018), August 5-10, 2018, Portland, OR, 1-5. Piscataway, New Jersey:IEEE. PNNL-SA-130957. doi:10.1109/PESGM.2018.8585855
Nandanoori S., S. Kundu, D.L. Vrabie, K. Kalsi, and J. Lian. 2018. "Prioritized Threshold Allocation for Distributed Frequency Response." In 2018 IEEE Conference on Control Technology and Applications (CCTA), 237-244. PNNL-SA-132273. doi:10.1109/CCTA.2018.8511411
Nudell T.R., A.M. Annaswamy, J. Lian, K. Kalsi, and D. D'Achiardi. 2018. "Electricity Markets in the United States: A Brief History, Current Operations, and Trends." In Smart Grid Control: Opportunities and Research Challenges, edited by Stoustrup J., Annaswamy A., Chakrabortty A., Qu Z. pp. 3-27. PNNL-SA-127149. doi:10.1007/978-3-319-98310-3_1
Ramachandran T., K. Dvijotham, K. Kalsi, and J. Lian. 2018. "Integration of Retail and Wholesale Markets: Modeling Framework and Stability Analysis." In 2018 IEEE Power & Energy Society General Meeting (PESGM). PNNL-SA-130537. doi:10.1109/PESGM.2018.8585854
2017
Hao H., C.D. Corbin, K. Kalsi, and R.G. Pratt. 2017. "Transactive Control of Commercial Buildings for Demand Response." IEEE Transactions on Power Systems 32, no. 1:774-783. PNNL-SA-114721. doi:10.1109/TPWRS.2016.2559485
Lian J., D. Wu, K. Kalsi, and H. Chen. 2017. "Theoretical Framework for Integrating Distributed Energy Resources into Distribution Systems." In IEEE Power & Energy Society General Meeting, July 16-20, 2017, Chicago, Illinois, 1-5. Piscataway, New Jersey:IEEE. PNNL-SA-122233. doi:10.1109/PESGM.2017.8274331
Widergren S.E., D.J. Hammerstrom, Q. Huang, K. Kalsi, J. Lian, A. Makhmalbaf, and T.E. McDermott, et al. 2017. Transactive Systems Simulation and Valuation Platform Trial Analysis. PNNL-26409. Richland, WA: Pacific Northwest National Laboratory. Transactive Systems Simulation and Valuation Platform Trial Analysis
Wu J., T. Yang, D. Wu, K. Kalsi, and K. Johansson. 2017. "Distributed optimal dispatch of distributed energy resources over lossy communication networks." IEEE Transactions on Smart Grid 8, no. 6:3125-3137. PNNL-SA-122001. doi:10.1109/TSG.2017.2720761
2016
Li S., W. Zhang, J. Lian, and K. Kalsi. 2016. "Market-Based Coordination of Thermostatically Controlled Loads-Part I: A Mechanism Design Formulation." IEEE Transactions on Power Systems 31, no. 2:1170-1178. PNNL-SA-104887. doi:10.1109/TPWRS.2015.2432057
Li S., W. Zhang, J. Lian, and K. Kalsi. 2016. "Market-Based Coordination of Thermostatically Controlled Loads-Part II: Unknown Parameters and Case Studies." IEEE Transactions on Power Systems 31, no. 2:1179-1187. PNNL-SA-104858. doi:10.1109/TPWRS.2015.2432060
Li S., W. Zhang, J. Lian, and K. Kalsi. 2016. "On Reverse Stackelberg Game and Optimal Mean Field Control for a Large Population of Thermostatically Controlled Loads." In 2016 American Control Conference, July 6-8, 2016, Boston, MA. Piscataway, New Jersey:IEEE. PNNL-SA-109052. doi:10.1109/ACC.2016.7525463
Li S., W. Zhang, L. Zhao, J. Lian, and K. Kalsi. 2016. "On Social Optima of Non-Cooperative Mean Field Games." In IEEE 55th Conference on Decision and Control (CDC 2016), December 12-14, 2016, Las Vegas, Nevada, 3584-3590. Piscataway, New Jersey:IEEE. PNNL-SA-116713. doi:10.1109/CDC.2016.7798808
Lian J., J. Hansen, L.D. Marinovici, and K. Kalsi. 2016. "Hierarchical Decentralized Control Strategy for Demand-Side Primary Frequency Response." In IEEE Power and Energy Society General Meeting (PESGM 2016), July 17-21, 2016, Boston, MA. Piscataway, New Jersey:IEEE. PNNL-SA-114374. doi:10.1109/PESGM.2016.7741267
Williams T.L., K. Kalsi, M.A. Elizondo, L.D. Marinovici, and R.M. Pratt. 2016. "Control and Coordination of Frequency Responsive Residential Water Heaters." In IEEE Power and Energy Society General Meeting (PESGM 2016), July 17-21, 2016, Boston, Massachusetts. Piscataway, New Jersey:IEEE. PNNL-SA-114441. doi:10.1109/PESGM.2016.7741391
2015
Hao H., J. Lian, K. Kalsi, and J. Stoustrup. 2015. "Distributed Flexibility Characterization and Resource Allocation Strategies for Multi-zone Commercial Buildings in the Smart Grid." In 54th IEEE Conference on Decision and Control, December 15-18, 2015, Osaka, Japan, 3161-3168. Piscataway, New Jersey:IEEE. PNNL-SA-109049. doi:10.1109/CDC.2015.7402693
Kalsi K., J. Hansen, J.C. Fuller, L.D. Marinovici, M.A. Elizondo, T.L. Williams, and J. Lian, et al. 2015. Loads as a Resource: Frequency Responsive Demand. PNNL-25397. Richland, WA: Pacific Northwest National Laboratory. Loads as a Resource: Frequency Responsive Demand
Kalsi K., T.L. Williams, L.D. Marinovici, M.A. Elizondo, and J. Lian. 2015. Loads as a Resource: Frequency Responsive Demand. PNNL-24906. Richland, WA: Pacific Northwest National Laboratory. Loads as a Resource: Frequency Responsive Demand
Lian J., Y. Sun, L.D. Marinovici, and K. Kalsi. 2015. "Improved Controller Design of Grid Friendly™ Appliances for Primary Frequency Response." In IEEE Power & Energy Society General Meeting, July 26-30, 2015, Denver, Colorado, 1-5. Piscataway, New Jersey:IEEE. PNNL-SA-106860. doi:10.1109/PESGM.2015.7286424
Subbarao K., J.C. Fuller, K. Kalsi, J. Lian, and E.T. Mayhorn. 2015. Transactive Control and Coordination of Distributed Assets for Ancillary Services: Controls, Markets and Simulations. PNNL-24116. Richland, WA: Pacific Northwest National Laboratory. Transactive Control and Coordination of Distributed Assets for Ancillary Services: Controls, Markets and Simulations
2014
Elizondo M.A., L.D. Marinovici, J. Lian, K. Kalsi, and P. Du. 2014. "Mitigation of Remedial Action Schemes by Decentralized Robust Governor Control." In IEEE PES T&D Conference and Exposition, April 14-17, 2014, Chicago Illinois, 1-5. Piscataway, New Jersey:IEEE. PNNL-SA-90761. doi:10.1109/TDC.2014.6863364
Kalsi K., J. Lian, L.D. Marinovici, M.A. Elizondo, W. Zhang, and C. Moya. 2014. Loads as a Resource: Frequency Responsive Demand. PNNL-23764. Richland, WA: Pacific Northwest National Laboratory. Loads as a Resource: Frequency Responsive Demand
Li S., W. Zhang, J. Lian, and K. Kalsi. 2014. "On Market-Based Coordination of Thermostatically Controlled Loads With User Preference." In IEEE 53rd Conference on Decision and Control (CDC 2014), December 15-17, 2013, Los Angeles, California, 2474-2480. Piscataway, New Jersey:IEEE. PNNL-SA-101666. doi:10.1109/CDC.2014.7039766
Moya C., W. Zhang, J. Lian, and K. Kalsi. 2014. "A Hierarchical Framework for Demand-Side Frequency Control." In American Control Conference (ACC 2014), June 4-6, 2014, Portland, Oregon, 52-57. Piscataway, New Jersey:IEEE. PNNL-SA-98607. doi:10.1109/ACC.2014.6859304
2013
Chang C., W. Zhang, J. Lian, and K. Kalsi. 2013. "Modeling and Control of Aggregated Air Conditioning Loads Under Realistic Conditions." In IEEE PES Innovative Smart Grid Technologies (ISGT 2013), February 24-27, 2013, Washington DC. Piscataway, New Jersey:IEEE. PNNL-SA-91055. doi:10.1109/ISGT.2013.6497895
Kalsi K., J.C. Fuller, F.K. Tuffner, J. Lian, W. Zhang, L.D. Marinovici, and A.R. Fisher, et al. 2013. Integrated Transmission and Distribution Control. PNNL-22157. Richland, WA: Pacific Northwest National Laboratory. Integrated Transmission and Distribution Control
Kalsi K., W. Zhang, J. Lian, L.D. Marinovici, C. Moya, and J.E. Dagle. 2013. Distributed Smart Grid Asset Control Strategies for Providing Ancillary Services. PNNL-22875. Richland, WA: Pacific Northwest National Laboratory. Distributed Smart Grid Asset Control Strategies for Providing Ancillary Services
Marinovici L.D., J. Lian, K. Kalsi, P. Du, and M.A. Elizondo. 2013. "Distributed Hierarchical Control Architecture for Transient Dynamics Improvement in Power Systems." IEEE Transactions on Power Systems 28, no. 3:3065-3074. PNNL-SA-88935. doi:10.1109/TPWRS.2012.2236655
Mayhorn E.T., K. Kalsi, J. Lian, and M.A. Elizondo. 2013. "Model Predictive Control-based Optimal Coordination of Distributed Energy Resources." In 46th Hawaii International Conference on System Sciences (HICSS 2013), January 7-10, 2013, Wailea, Hawaii, 2237-2244. Piscataway, New Jersey:Institute of Electrical and Electronics Engineers. PNNL-SA-88538. doi:10.1109/HICSS.2013.410
Mayhorn E.T., K. Kalsi, J. Lian, and M.A. Elizondo. 2013. "Model Predictive Control-based Optimal Coordination of Distributed Energy Resources." In 46th Hawaii International Conference on System Sciences (HICSS), January 7-10, 2013, Maui, Hawaii, edited by RH Sprague, Jr., 2237-2244. Los Alamitos, California:IEEE Computer Society. PNNL-SA-92849. doi:10.1109/HICSS.2013.410
Subbarao K., J.C. Fuller, K. Kalsi, A. Somani, R.G. Pratt, S.E. Widergren, and D.P. Chassin. 2013. Transactive Control and Coordination of Distributed Assets for Ancillary Services. PNNL-22942. Richland, WA: Pacific Northwest National Laboratory. Transactive Control and Coordination of Distributed Assets for Ancillary Services
Zhang W., J. Lian, C. Chang, and K. Kalsi. 2013. "Aggregated Modeling and Control of Air Conditioning Loads for Demand Response." IEEE Transactions on Power Systems 28, no. 4:4655-4664. PNNL-SA-93151. doi:10.1109/TPWRS.2013.2266121
2012
Chassin D.P., and K. Kalsi. 2012. "Effects of Demand Response on Retail and Wholesale Power Markets." In IEEE Power and Energy Society General Meeting, July 22-26, 2012, San Diego, California, 1-7. Piscataway, New Jersey:IEEE. PNNL-SA-84436. doi:10.1109/PESGM.2012.6345602
Elbert S.T., K. Kalsi, M. Vlachopoulou, M.J. Rice, K.R. Glaesemann, and N. Zhou. 2012. "Advanced Computational Methods for Security Constrained Financial Transmission Rights: Structure and Parallelism." In 8th Power Plant and Power Systems Control Symposium, September 2-5, 2012, Toulouse, France, edited by M Fadel and S Caux, 8, 506-511. Winterthur:International Federation of Automatic Control (IFAC). PNNL-SA-84861. doi:10.3182/20120902-4-FR-2032.00089
Kalsi K., M.A. Elizondo, J.C. Fuller, S. Lu, and D.P. Chassin. 2012. "Development and Validation of Aggregated Models for Thermostatic Controlled Loads with Demand Response." In 45th Hawaii International Conference on System Science (HICSS 2012), January 4-7, 2012, Maui, Hawaii, 1959-1966. Piscataway, New Jersey:IEEE. PNNL-SA-80670. doi:10.1109/HICSS.2012.212
Kalsi K., P. Du, and Z. Huang. 2012. "Model Calibration of Exciter and PSS Using Extended Kalman Filter." In IEEE Power and Energy Society General Meeting, July 22-26, 2012, San Diego, California, 1-6. Piscataway, New Jersey:IEEE. PNNL-SA-84437. doi:10.1109/PESGM.2012.6345560
Kalsi K., S.T. Elbert, M. Vlachopoulou, N. Zhou, and Z. Huang. 2012. "Advanced Computational Methods for Security Constrained Financial Transmission Rights." In IEEE Power and Energy Society General Meeting, July 22-26, 2012, San Diego, California, 1-8. Piscataway, New Jersey:IEEE. PNNL-SA-84434. doi:10.1109/PESGM.2012.6345577
Kalsi K., Y. Sun, Z. Huang, P. Du, R. Diao, K.K. Anderson, and Y. Li, et al. 2012. "Calibrating Multi-machine Power System Parameters with the Extended Kalman Filter." In 2011 IEEE Power & Energy Society General Meeting, July 24-28, 2011, Detroit, Michigan. Piscataway, New Jersey:IEEE. PNNL-SA-76407. doi:10.1109/PES.2011.6039224
Lian J., L.D. Marinovici, K. Kalsi, P. Du, and M.A. Elizondo. 2012. "Distributed Hierarchical Control of Multi-Area Power Systems with Improved Primary Frequency Regulation." In Proceedings of the IEEE 51st Annual Conference on Decision and Control (CDC), December 10-13, 2012, Maui, Hawaii, 444-449. Piscataway, New Jersey:IEEE. PNNL-SA-86253. doi:10.1109/CDC.2012.6426115
Mayhorn E.T., K. Kalsi, M.A. Elizondo, W. Zhang, S. Lu, N.A. Samaan, and K. Butler-Purry. 2012. "Optimal Control of Distributed Energy Resources using Model Predictive Control." In Proceedigns of the IEEE Power & Energy Society General Meeting, July 22-26, 2012, San Diego, California. Piscataway, New Jersey:IEEE. PNNL-SA-84396. doi:10.1109/PESGM.2012.6345596
Vlachopoulou M., G. Chin, J.C. Fuller, S. Lu, and K. Kalsi. 2012. "Model for Aggregated Water Heater Load Using Dynamic Bayesian Networks." In Proceedings of the 2012 International Conference on Data Mining (DMIN 2012). WORLDCOMP '12, July 16-19, 2012, Las Vegas, Nevada, edited by R Stahlbock and GM Weiss, 17-23. Athens, Georgia:CSREA Press. PNNL-SA-86275.
Zhang W., J. Lian, C. Chang, K. Kalsi, and Y. Sun. 2012. "Reduced-Order Modeling of Aggregated Thermostatic Loads With Demand Response." In Proceedings of the IEEE 51st Annual Conference on Decision and Control (CDC), December 10-13, 2012, Maui, Hawaii, 5592-5597. Piscataway, New Jersey:IEEE. PNNL-SA-86238. doi:10.1109/CDC.2012.6426010
Zhang W., K. Kalsi, J.C. Fuller, M.A. Elizondo, and D.P. Chassin. 2012. "Aggregate Model for Heterogeneous Thermostatically Controlled Loads with Demand Response." In IEEE Power and Energy Society General Meeting, July 22-26, 2012, San Diego, California, 1-8. Piscataway, New Jersey:IEEE. PNNL-SA-84435. doi:10.1109/PESGM.2012.6345351
2011
Du P., Z. Huang, Y. Sun, R. Diao, K. Kalsi, K.K. Anderson, and Y. Li, et al. 2011. "Distributed Dynamic State Estimation with Extended Kalman Filter." In 43rd North American Power Symposium (NAPS 2011), August 4-6, 2011, Boston, Massachusetts. Piscataway, New Jersey:Institute of Electrical and Electronics Engineers, Inc. PNNL-SA-79744. doi:10.1109/NAPS.2011.6024863
Kalsi K., F.S. Chassin, and D.P. Chassin. 2011. "Aggregated Modeling of Thermostatic Loads in Demand Response: A Systems and Control Perspective." In 50th IEEE Conference on Decision and Control and European Control Conference (CDC-ECC), December 12-15, 2011, Orlando, Florida, 15-20. Piscataway, New Jersey:IEEE. PNNL-SA-78261. doi:10.1109/CDC.2011.6160448
Kalsi K., S. Hui, and S. Zak. 2011. "Unknown Input and Sensor Fault Estimation Using Sliding-Mode Observers." In American Control Conference (ACC 2011), June 29-July 1, 2011, San Francisco, California, 1364-1369. Piscataway, New Jersey:IEEE. PNNL-SA-78003. doi:10.1109/ACC.2011.5990738
Lu S., M.A. Elizondo, N.A. Samaan, K. Kalsi, E.T. Mayhorn, R. Diao, and C. Jin, et al. 2011. "Control Strategies for Distributed Energy Resources to Maximize the Use of Wind Power in Rural Microgrids." In Proceedings of the IEEE Power and Energy Society General Meeting, July 24-29, 2011, Detroit, Michigan. Piscataway, New Jersey:Institute of Electrical and Electronics Engineers. PNNL-SA-76607. doi:10.1109/PES.2011.6039787
Sun Y., P. Du, Z. Huang, K. Kalsi, R. Diao, K.K. Anderson, and Y. Li, et al. 2011. "PMU Placement for Dynamic State Tracking of Power Systems." In 43rd North American Power Symposium (NAPS 2011), August 4-6, 2011 Boston, Massachusetts. Piscataway, New Jersey:Institute of Electrical and Electronics Engineers, Inc. PNNL-SA-79461. doi:10.1109/NAPS.2011.6024865