Jonathan Whiting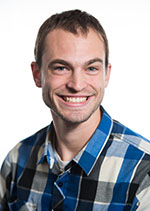 (206) 528-3060
Send Email
Biography
Jonathan Whiting is a researcher for the Coastal Sciences Division of Pacific Northwest National Laboratory, located in the Seattle office. A civil engineer by training, Jonathan provides a blend of analytical thinking and an outgoing personality that has provided numerous opportunities while at PNNL. He has supported a varied portfolio of projects related to wind and marine renewable energy and environmental effects, numerical modeling for ecological restoration, oil spill trajectory modeling, and carbon storage monitoring. These experiences have fostered a skillset centered around data analysis and management, including risk-based analyses, GIS mapping, visual analytics, coding, and web development.
Research Interests
Progressing the marine renewable energy industry in an environmentally sustainable manner.
Performing coastal and ocean modeling to assess potential environmental effects from anthropogenic activities.
Analyzing data and effectively synthesizing results.
Education and Credentials
Bachelor of Science, Civil Engineering, University of Washington, June 2012
Professional Engineer--Civil Water Resources and Environmental, State of Washington, 2018
PNNL Publications
2019
Bacon D.H., C. Yonkofski, C.F. Brown, D.I. Demirkanli, and J.M. Whiting. 2019. "Risk-based Post Injection Site Care and Monitoring for Commercial-Scale Carbon Storage: Reevaluation of the FutureGen 2.0 Site using NRAP-Open-IAM and DREAM." International Journal of Greenhouse Gas Control 90. PNNL-SA-140302. doi:10.1016/j.ijggc.2019.102784
2018
Duran R., L. Romeo, J.M. Whiting, J.M. Vielma, K.K. Rose, A.L. Bunn, and J.R. Bauer. 2018. "Simulation of the 2003 Foss Barge - Point Wells Oil Spill: A Comparison between BLOSOM and GNOME oil-spill models." Journal of Marine Science and Engineering 6, no. 3:104. PNNL-SA-135644. doi:10.3390/jmse6030104
2017
2016
Copping A.E., S.A. Breithaupt, J.M. Whiting, M.E. Grear, J.D. Tagestad, and G.A. Shelton. 2016. "Likelihood of a Marine Vessel Accident from Wind Energy Development in the Atlantic." Wind Energy 19, no. 9:1557-1566. PNNL-SA-108588. doi:10.1002/we.1935
2015
2013
Copping A.E., C. Smith, L.A. Hanna, H. Battey, J.M. Whiting, M.C. Reed, and J. Brown-Saracino, et al. 2013. "Tethys: Developing a Commons for Understanding Environmental Effects of Ocean Renewable Energy." International Journal of Marine Energy 3-4. PNNL-SA-99308. doi:10.1016/j.ijome.2013.11.004
Copping A.E., S.A. Breithaupt, J.D. Tagestad, J.M. Whiting, M.E. Grear, and G.A. Shelton. 2013. Risk Assessment for Marine Vessel Traffic and Wind Energy Development in the Atlantic. PNNL-23453. Richland, WA: Pacific Northwest National Laboratory. Risk Assessment for Marine Vessel Traffic and Wind Energy Development in the Atlantic
Hanna L.A., J.M. Whiting, and A.E. Copping. 2013. Visual Modeling for Aqua Ventus I off Monhegan Island, ME. PNNL-22982. Richland, WA: Pacific Northwest National Laboratory. Visual Modeling for Aqua Ventus I off Monhegan Island, ME
Whiting J.M., L.A. Hanna, N.L. DeChello, and A.E. Copping. 2013. Acoustic Modeling for Aqua Ventus I off Monhegan Island, ME. PNNL-22926. Richland, WA: Pacific Northwest National Laboratory. Acoustic Modeling for Aqua Ventus I off Monhegan Island, ME