Megan Nims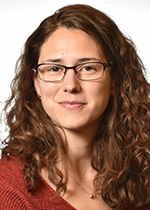 Pacific Northwest National Laboratory
PO Box 999
Richland, WA 99352
(509) 371-7182
Send Email
Biography
Megan has been at PNNL since 2012, beginning her career as a post-Master's research associate. Her responsibilities have focused on investigating questions of fish migration and habitat use through the use of chemical markers. She has experience in the preparation and analysis of various types of samples (e.g. fish otoliths, fin rays, scales, and tissue, water, algal mat) via solution and laser ablation inductively coupled plasma mass spectrometry and isotope ratio mass spectrometry.
Research Interests
Fish migration and habitat use
Otolith microchemistry
Geochemistry
Education and Credentials
M.S., Marine Science, University of Texas at Austin, 2012
B.A., Evolution and Ecology, The Ohio State University, 2009
Ph.D., Interdisciplinary (Biogeochemistry), Washington State University, In Progress.
Affiliations and Professional Service
American Chemical Society
American Fisheries Society
PNNL Patents
PNNL Publications
2022
Ewing R.G., M.K. Nims, K.A. Morrison, G.L. Hart, N.M. Avalos, and E.H. Denis. 2022. "Vapor detection and vapor pressure measurements of fentanyl and fentanyl hydrochloride salt at ambient temperatures." Analyst 147. PNNL-SA-174452. doi:10.1039/d2an01149b
2021
Morrison K.A., E.H. Denis, M.K. Nims, A.M. Broderick, R.C. Fausey, H.J. Rose, and P.E. Gongwer, et al. 2021. "Vapor Pressures of RDX and HMX Explosives Measured at and Near Room Temperature: 1,3,5-Trinitro-1,3,5-triazinane and 1,3,5,7-Tetranitro-1,3,5,7-tetrazocane." Journal of Physical Chemistry A 125, no. 5:1279-1288. PNNL-SA-157995. doi:10.1021/acs.jpca.0c10409
2020
Morrison K.A., B.R. Valenzuela, E.H. Denis, M.K. Nims, D.A. Atkinson, B.H. Clowers, and R.G. Ewing. 2020. "Non-Contact Vapor Detection of Illicit Drugs via Atmospheric Flow Tube-Mass Spectrometry." Analyst 145, no. 20:6485-6492. PNNL-SA-154280. doi:10.1039/D0AN00691B
Szecsody J.E., H.P. Emerson, R.D. Mackley, C.T. Resch, B.N. Gartman, C.I. Pearce, and S.A. Saslow, et al. 2020. Evaluation of the Change in Uranium Mobility in Sediments from the Hanford 300-FF-5 Stage B Polyphosphate Field Injection. PNNL-29650. Richland, WA: Pacific Northwest National Laboratory. Evaluation of the Change in Uranium Mobility in Sediments from the Hanford 300-FF-5 Stage B Polyphosphate Field Injection
2018
Demirkanli D.I., M.J. Truex, J.E. Szecsody, M. Snyder, J.J. Moran, M.K. Nims, and A.R. Lawter, et al. 2018. Contaminant Attenuation and Transport Characterization of 200-DV-1 Operable Unit Sediment Samples from Boreholes C9497, C9498, C9603, C9488, and C9513. PNNL-27524. Richland, WA: Pacific Northwest National Laboratory.
Lee B.D., J.J. Moran, M.K. Nims, and D.L. Saunders. 2018. Letter Report: Stable Hydrogen and Oxygen Isotope Analysis of B-Complex Groundwater Samples. PNNL-27357. Richland, WA: Pacific Northwest National Laboratory. Letter Report: Stable Hydrogen and Oxygen Isotope Analysis of B-Complex Groundwater Samples
Moran J.J., C.G. Fraga, and M.K. Nims. 2018. "Stable-Carbon Isotope Ratios for Sourcing the Nerve-Agent Precursor Methylphosphonic Dichloride and Its Products." Talanta 186. PNNL-SA-130651. doi:10.1016/j.talanta.2018.04.021
Szecsody J.E., M.J. Truex, B.D. Lee, C.E. Strickland, J.J. Moran, M. Snyder, and C.T. Resch, et al. 2018. Geochemical, Microbial, and Physical Characterization of 200-DV-1 Operable Unit B-Complex Cores from Boreholes C9552, C9487, and C9488 on the Hanford Site Central Plateau. PNNL-26266 Rev 1. Richland, WA: Pacific Northwest National Laboratory. Geochemical, Microbial, and Physical Characterization of 200-DV-1 Operable Unit B-Complex Cores from Boreholes C9552, C9487, and C9488 on the Hanford Site Central Plateau
2017
Lee B.D., J.J. Moran, M.K. Nims, and D.L. Saunders. 2017. Letter Report: Stable Hydrogen and Oxygen Isotope Analysis of B-Complex Perched Water Samples. PNNL-26341. Richland, WA: Pacific Northwest National Laboratory. Letter Report: Stable Hydrogen and Oxygen Isotope Analysis of B-Complex Perched Water Samples
Szecsody J.E., M.J. Truex, B.D. Lee, C.E. Strickland, J.J. Moran, M. Snyder, and C.T. Resch, et al. 2017. Geochemical, Microbial, and Physical Characterization of 200-DV-1 Operable Unit Cores from Boreholes C9552, C9487, and C9488, Hanford Site Central Plateau. PNNL-26266. Richland, WA: Pacific Northwest National Laboratory.
Truex M.J., J.E. Szecsody, N. Qafoku, C.E. Strickland, J.J. Moran, B.D. Lee, and M. Snyder, et al. 2017. Contaminant Attenuation and Transport Characterization of 200-DV-1 Operable Unit Sediment Samples. PNNL-26208; RPT-DVZ-AFRI-037. Richland, WA: Pacific Northwest National Laboratory. Contaminant Attenuation and Transport Characterization of 200-DV-1 Operable Unit Sediment Samples
2016
Linley T.J., E.J. Krogstad, M.K. Nims, and R.B. Langshaw. 2016. "Geochemical signatures in fin rays provide a nonlethal method to distinguish the natal rearing streams of endangered juvenile Chinook Salmon Oncorhynchus tshawytscha in the Wenatchee River, Washington." Fisheries Research 181. PNNL-SA-117248. doi:10.1016/j.fishres.2016.04.004