Andrea Wilkerson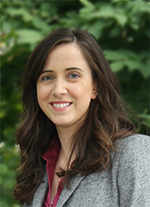 (503) 417-7562
Send Email
Biography
Andrea is a Senior Lighting Research Engineer at Pacific Northwest National Laboratory, focusing on the evaluation of emerging lighting technology in support of the U.S. Department of Energy Solid-State Lighting Program. She earned her doctorate from Penn State and her BS and MAE from the University of Nebraska in the respective architectural engineering programs. Andrea serves as President of the International Association of Lighting Designers Education Trust Board of Directors and participates on the National Council on Qualifications for the Lighting Professions Exam committee, the Oregon State University School of Civil and Construction Engineering Industry Advisory Board and the Illuminating Engineering Society Educational Facilities, Libraries and Offices committee.
Research Interests
Lighting Efficiency and Quality
Lighting Metrics
Human Factors
Lighting Education
Education and Credentials
B.S. and M.A.E. in Architectural Engineering, University of Nebraska
Ph.D. in Architectural Engineering, Penn State University
PNNL Publications
2022
Elliott J., A. McBride, N. Balba, S.V. Thomas, C. Pattinson, B. Morasco, and A. Wilkerson, et al. 2022. "Feasibility and preliminary efficacy for morning bright light therapy to improve sleep and plasma biomarkers in US Veterans with TBI. A prospective, open-label, single-arm trial." PLoS One 17, no. 4:Art. No. e0262955. PNNL-SA-154724. doi:10.1371/journal.pone.0262955
Elliott J., C.E. Jones, C. Reynolds, R. Olson, K. Weymann, W.M. Au-Yeung, and A. Wilkerson, et al. 2022. "Tunable White Light for Elders (TWLITE): A Protocol Demonstrating Feasibility and Acceptability for Deployment, Remote Data Collection, and Analysis of a Home-Based Lighting Intervention in Older Adults." Sensors 22, no. 14:Art. No. 5372. PNNL-SA-168379. doi:10.3390/s22145372
2020
Davis R.G., L.J. McCunn, A. Wilkerson, and S.F. Safranek. 2020. "Nurses' Satisfaction with Patient Room Lighting Conditions: A Study of Nurses in Four Hospitals with Differences in the Environment of Care." Health Environments Research and Design 13, no. 3:110-124. PNNL-SA-145366. doi:10.1177/1937586719890940
Royer M.P., M. Wei, A. Wilkerson, and S.F. Safranek. 2020. "Experimental validation of color rendition specification criteria based on ANSI/IES TM-30-18." Lighting Research & Technology 52, no. 3:323-349. PNNL-SA-142381. doi:10.1177/1477153519857625
Safranek S.F., J.M. Collier, A. Wilkerson, and R.G. Davis. 2020. "Energy impact of human health and wellness lighting recommendations for office and classroom applications." Energy and Buildings 226. PNNL-SA-151604. doi:10.1016/j.enbuild.2020.110365
2019
Davis R.G., A. Wilkerson, and B.R. Kinzey. 2019. "Luminaire dirt depreciation (LDD): Field data from several exterior lighting projects." LEUKOS - The Journal of the Illuminating Engineering Society of North America 15, no. 1:55-63. PNNL-SA-130333. doi:10.1080/15502724.2018.1517598
Wilkerson A. 2019. "Opinion: The Role of Energy Efficiency in the Light and Health Conversation." Lighting Research & Technology 51, no. 7:982. PNNL-SA-143533. doi:10.1177/1477153519881576
2018
Wilkerson A. 2018. "Long-Term Performance in the Arizona Desert." LD+A Magazine 48, no. 4:30-34. PNNL-SA-132410.
2017
Royer M.P., A. Wilkerson, M. Wei, K.W. Houser, and R.G. Davis. 2017. "Human perceptions of colour rendition vary with average fidelity, average gamut, and gamut shape." Lighting Research & Technology 49, no. 8:966-991. PNNL-SA-116963. doi:10.1177/1477153516663615
Wilkerson A. 2017. "Promising Innovations for the Lighting Profession: Big Data, New Tools." Architectural Lighting. PNNL-SA-124420.
2016
Wilkerson A. 2016. "Going the Extra Mile." LD+A Magazine. PNNL-SA-115071.
2015
Wilkerson A., A. Donohue, and R.G. Davis. 2015. "Designing for the Active Classroom." LD+A Magazine (February 2015). PNNL-SA-107285.
2014