Andrea Wilkerson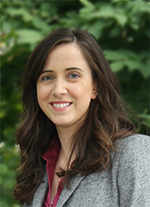 Pacific Northwest National Laboratory
Portland Office
620 SW FIFTH AVE, SUITE #810
Portland, OR 97204
(503) 417-7562
Send Email
Biography
Andrea joined the Advanced Lighting Team at PNNL as a Lighting Engineer in 2013. Prior to joining PNNL Andrea participated in a variety of research at the University of Nebraska and Penn State University including: residential real-time energy monitoring, energy modeling, non-visual effects of optical radiation, and psychophysical response to spectra. Her dissertation, Reallocation of Narrow Bands of Spectral Energy: Effect on Brightness Perception and Color Preference, focused on the modification of the spectral power distribution of a source to enhance the perception of brightness and preference. Andrea is currently focused on the demonstration and evaluation of emerging lighting technologies, supporting the DOE solid-state lighting program.
Research Interests
Lighting Efficiency and Quality
Lighting Metrics
Human Factors
Lighting Education
Education and Credentials
B.S. and M.A.E. in Architectural Engineering, University of Nebraska
Ph.D. in Architectural Engineering, Penn State University
PNNL Publications
2020
Davis R.G., L.J. McCunn, A. Wilkerson, and S.F. Safranek. 2020. "Nurses' Satisfaction with Patient Room Lighting Conditions: A Study of Nurses in Four Hospitals with Differences in the Environment of Care." Health Environments Research and Design 13, no. 3:110-124. PNNL-SA-145366. doi:10.1177/1937586719890940
Royer M.P., M. Wei, A. Wilkerson, and S.F. Safranek. 2020. "Experimental validation of color rendition specification criteria based on ANSI/IES TM-30-18." Lighting Research and Technology 52, no. 3:323-349. PNNL-SA-142381. doi:10.1177/1477153519857625
Safranek S.F., J.M. Collier, A. Wilkerson, and R.G. Davis. 2020. "Energy impact of human health and wellness lighting recommendations for office and classroom applications." Energy and Buildings 226. PNNL-SA-151604. doi:10.1016/j.enbuild.2020.110365
2019
Davis R.G., A. Wilkerson, and B.R. Kinzey. 2019. "Luminaire dirt depreciation (LDD): Field data from several exterior lighting projects." LEUKOS - The Journal of the Illuminating Engineering Society of North America 15, no. 1:55-63. PNNL-SA-130333. doi:10.1080/15502724.2018.1517598
Wilkerson A. 2019. "Opinion: The Role of Energy Efficiency in the Light and Health Conversation." Lighting Research and Technology 51, no. 7:982. PNNL-SA-143533. doi:10.1177/1477153519881576
2018
Royer M.P., A. Wilkerson, and M. Wei. 2018. "Human Perceptions of Colour Rendition at Different Chromaticities." Lighting Research and Technology 50, no. 7:965-994. PNNL-SA-125201. doi:10.1177/1477153517725974
Wilkerson A. 2018. "Long-Term Performance in the Arizona Desert." LD+A Magazine 48, no. 4:30-34. PNNL-SA-132410.
2017
Wilkerson A. 2017. "Promising Innovations for the Lighting Profession: Big Data, New Tools." Architectural Lighting. PNNL-SA-124420.
2016
Wilkerson A. 2016. "Going the Extra Mile." LD+A Magazine. PNNL-SA-115071.
2015
Wilkerson A., A. Donohue, and R.G. Davis. 2015. "Designing for the Active Classroom." Lighting Design plus Application (February 2015). PNNL-SA-107285.
2014