Andrea Wilkerson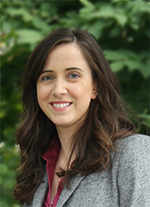 Pacific Northwest National Laboratory
Portland Office
620 SW FIFTH AVE, SUITE #810
Portland, OR 97204
(503) 417-7562
Send Email
Biography
Andrea joined the Advanced Lighting Team at PNNL as a Lighting Engineer in 2013. Prior to joining PNNL Andrea participated in a variety of research at the University of Nebraska and Penn State University including: residential real-time energy monitoring, energy modeling, non-visual effects of optical radiation, and psychophysical response to spectra. Her dissertation, Reallocation of Narrow Bands of Spectral Energy: Effect on Brightness Perception and Color Preference, focused on the modification of the spectral power distribution of a source to enhance the perception of brightness and preference. Andrea is currently focused on the demonstration and evaluation of emerging lighting technologies, supporting the DOE solid-state lighting program.
Research Interests
Lighting Efficiency and Quality
Lighting Metrics
Human Factors
Lighting Education
Education and Credentials
B.S. and M.A.E. in Architectural Engineering, University of Nebraska
Ph.D. in Architectural Engineering, Penn State University
PNNL Publications
2015
Wilkerson A., A. Donohue, and R.G. Davis. 2015. "Designing for the Active Classroom." Lighting Design plus Application (February 2015). PNNL-SA-107285.