Jeff Burghardt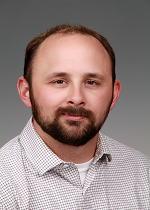 Pacific Northwest National Laboratory
PO Box 999
Richland, WA 99352
(509) 375-2278
Send Email
Biography
Jeff Burghardt has over 8 years of experience in experimental and computational geomechanics. Since joining PNNL in 2016, his/her work has focused primarily on geologic carbon sequestration and enhanced geothermal systems.
Research Interests
Hydraulic fracturing
Induced seismicity
Subsurface stress measurement and estimation
Chemical/mechanical coupling
Rock mechanics
Fracture mechanics
Multiphysics modeling
Education and Credentials
Ph.D., Mechanical Engineering, University of Utah
B.S., Mechanical Engineering, Utah State University
Affiliations and Professional Service
Society of Petroleum Engineers
American Rock Mechanics Association
PNNL Publications
2020
Jian G., C.A. Fernandez, J.A. Burghardt, A.H. Bonneville, V. Gupta, and G. Garrison. 2020. "Foot-scale Evaluation of CO2-Responsive Polymer and CO2 Binary Fluid as an Alternative Fracturing Fluid for Enhanced Geothermal Systems." In Proceedings of the 45th Workshop on Geothermal Reservoir Engineering, February 10-12, 2020, Stanford, California. Stanford, California:Stanford University. PNNL-SA-151707.
2019
Fernandez C.A., V. Gupta, G.L. Dai, A.P. Kuprat, A.H. Bonneville, D. Appriou, and J.A. Horner, et al. 2019. "Insights into a Greener Stimuli-Responsive Fracturing Fluid for Geothermal Applications." ACS Sustainable Chemistry & Engineering 7, no. 14:19660-19668. PNNL-SA-144518. doi:10.1021/acssuschemeng.9b04802
Miller Q., H.T. Schaef, S.K. Nune, K. Jung, J.A. Burghardt, P.F. Martin, and M.S. Prowant, et al. 2019. "Geophysical Monitoring with Seismic Metamaterial Contrast Agents." In Unconventional Resources Technology Conference (URTeC 2019), July 22-24, 2019, Denver, CO, Paper No 1123. Richardson, Texas:Society of Petroleum Engineers. PNNL-SA-148890. doi:10.15530/urtec-2019-1123
2018
Burghardt J.A. 2018. "Geomechanical risk assessment for subsurface fluid disposal operations." Rock Mechanics and Rock Engineering 51, no. 7:2265-2288. PNNL-SA-123422. doi:10.1007/s00603-018-1409-1
2017
Knox H., P. Fu, J. Morris, Y. Guglielmi, V.R. Vermeul, J. Ajo-Franklin, and C.E. Strickland, et al. 2017. "Fracture and Flow Designs for the Collab/SIGMA-V Project." Transactions - Geothermal Resources Council 41. PNNL-SA-128292.