Md. Reza E Rabby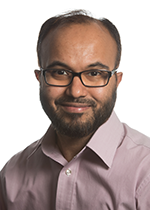 Pacific Northwest National Laboratory
PO Box 999
Richland, WA 99352
(509) 372-6843
Send Email
Biography
Dr. Md Reza-E-Rabby joined at PNNL in 2016 as a Post Doctorate Research Associate and assigned to the task of joining thick section dissimilar material. Following his graduate work at the University of South Carolina in 2015, Dr. Rabby started his career as a Friction Stir Weld (FSW) engineer in a company that provide canister for the nuclear spent fuel in power plants. His expertise in FSW tool design brought him in current position at PNNL for developing new solid state joining technology of dissimilar material such as, Al-steel, Al-Mg, Al/Mg-carbon/glass fiber reinforced polymer(C/G FRP) composites etc. over a range of stack up thicknesses of 1-75 mm. In addition, his research is also focused towards the investigation of solid phase processing of lightweight materials using Shear Assisted Processing and Extrusion (ShAPE™) for enhancing properties with novel microstructures, and the transition the technology from the lab scale manufacturing to the bulk production environment.
Research Interests
Developing design criteria for FSW tools
Solid phase processing and joining of materials (ShAPE™, FSW)
Structural analysis using finite element method (FEM)
Metallurgy of aluminum alloys and their metal matrix composites
Synthesis and characterization of nanocomposite materials
Vacuum assisted resin transfer molding (VARTM) for manufacturing C/G FRP
Education and Credentials
Ph.D. Mechanical Engineering, University of South Carolina, 2015
M.S. Mechanical Engineering, Tuskegee University, 2010
B.Sc. Civil Engineering, Bangladesh University of Engineering and Technology (BUET), 2006
Affiliations and Professional Service
The Minerals, Metals and Materials Society (TMS)
Awards and Recognitions
Outstanding Performance award, PNNL, 2016
Travel Grant Award, the Graduate School at University of South Carolina (2013-2014)
PNNL Patents
U.S. Patent No. 11,383,280, July 12, 2022, "DEVICES AND METHODS FOR PERFORMING SHEAR-ASSISTED EXTRUSION, EXTRUSION FEEDSTOCKS, EXTRUSION PROCESSES, AND METHODS FOR PREPARING METAL SHEETS".
U.S. Patent No. 11,045,851, June 29, 2021, " Method for Forming Hollow Profile Non-Circular Extrusions Using Shear Assisted Processing and Extrusion (ShAPE) ".
U.S. Patent No. 10,369,748, August 6, 2019, "FRICTION STIRRING INTERLOCKING OF DISSIMILAR MATERIALS ".
PNNL Publications
2022
Reza E Rabby M., T. Wang, N.L. Canfield, D.D. Graff, T.J. Roosendaal, and S.A. Whalen. 2022. "Effect of post-extrusion heat treatment on mechanical property of aluminum alloy 2024 tube produced using Shear Assisted Processing and Extrusion (ShAPE)." In Light Metals Symposium held at the TMS Annual Meeting and Exhibition (Light Metals 2022), February 27- March 3, 2022, Anaheim, CA, edited by D. Eskin, 301-307. Cham:Springer. PNNL-SA-166238. doi:10.1007/978-3-030-92529-1_42
Wang T., J.D. Escobar Atehortua, M. Song, M. Reza E Rabby, B.S. Taysom, J.A. Silverstein, and T.J. Roosendaal, et al. 2022. "Extrusion of Unhomogenized Castings of 7075 Aluminum via ShAPE." Materials & Design 213. PNNL-SA-167731. doi:10.1016/j.matdes.2021.110374
2021
Li X., M. Reza E Rabby, M.E. Ryan, G.J. Grant, and A.P. Reynolds. 2021. "Evaluation of Orthogonal Strain Components in Friction Extrusion." Journal of Materials Research and Technology 15. PNNL-SA-157484. doi:10.1016/j.jmrt.2021.10.001
Nazaeri Tiji S., A. Asgharzadeh, T. Park, S.A. Whalen, M. Reza E Rabby, M. Eller, and F. Pourboghrat. 2021. "Microstructure and Mechanical Properties of the AA7075 Tube Fabricated using Shear Assisted Processing and Extrusion (ShAPE)." Archives of Civil and Mechanical Engineering 21, no. 2:44. PNNL-SA-155953. doi:10.1007/s43452-021-00179-6
Olszta M.J., N.R. Overman, M. Reza E Rabby, T.J. Roosendaal, M. Mcdonnell, and S.A. Whalen. 2021. "Joining AA7099 to Ni-Cr-Mo Steel Using Single Pass Friction Stir Dovetailing and AA6061 Butter Layer." JOM. The Journal of the Minerals, Metals and Materials Society 73, no. 7:2203-2211. PNNL-SA-155286. doi:10.1007/s11837-021-04668-0
Reza E Rabby M., M.J. Olszta, N.R. Overman, M. Mcdonnell, and S.A. Whalen. 2021. "Friction Stir Dovetailing of AA7099 to Steel with AA6061 Interlayer for Reduced Zn Embrittlement at Dissimilar Interface." Journal of Manufacturing Processes 61. PNNL-SA-155326. doi:10.1016/j.jmapro.2020.10.084
Reza E Rabby M., T.J. Roosendaal, P. Upadhyay, N.R. Overman, J.A. Silverstein, M. Mcdonnell, and S.A. Whalen. 2021. "Process Robustness of Friction Stir Dovetailing of AA7099 to Steel with In Situ AA6061 Interlayer Linking." In Friction Stir Welding and Processing XI. The Minerals, Metals & Materials Series, edited by Y. Hovanski, et al. Cham:Springer. PNNL-SA-155938. doi:10.1007/978-3-030-65265-4_14
Taysom B.S., N.R. Overman, M.J. Olszta, M. Reza E Rabby, T. Skszek, M. Diciano, and S.A. Whalen. 2021. "Shear assisted processing and extrusion of enhanced strength aluminum." International Journal of Machine Tools and Manufacture 169. PNNL-SA-162162. doi:10.1016/j.ijmachtools.2021.103798
Taysom B.S., S.A. Whalen, M. Reza E Rabby, M. Diciano, and T. Skszek. 2021. "Shear Assisted Processing and Extrusion of Thin-Walled AA6063 Tubing." In Light Metals Symposium held at the TMS Annual Meeting and Exhibition, March 15-18, 2021. Minerals, Metals and Materials Series, edited by L. Perander, 6, 281 - 285. Cham:Springer. PNNL-SA-156007. doi:10.1007/978-3-030-65396-5_42
Whalen S.A., K.S. Kappagantula, M. Reza E Rabby, X. Li, N.R. Overman, M.J. Olszta, and T. Wang, et al. 2021. Shear Assisted Processing and Extrusion (ShAPE) of Aluminum Alloy 7075, 2024, and Al-12.4TM. PNNL-32387. Richland, WA: Pacific Northwest National Laboratory. Shear Assisted Processing and Extrusion (ShAPE) of Aluminum Alloy 7075, 2024, and Al-12.4TM
Whalen S.A., M. Reza E Rabby, T. Wang, X. Ma, T.J. Roosendaal, and B.S. Taysom. 2021. "Shear Assisted Processing and Extrusion of Aluminum Alloy 7075 Tubing at High Speed." In Light Metals held at the TMS Annual Meeting and Exhibition, March 15-18, 2021. Minerals, Metals and Materials Series, edited by L. Perander, 6, 277-280. Cham:Springer. PNNL-SA-156009. doi:10.1007/978-3-030-65396-5_41
Whalen S.A., M.J. Olszta, M. Reza E Rabby, T.J. Roosendaal, T. Wang, D.R. Herling, and B.S. Taysom, et al. 2021. "High Speed Manufacturing of Aluminum Alloy 7075 Tubing by Shear Assisted Processing and Extrusion (ShAPE)." Journal of Manufacturing Processes 71. PNNL-SA-164792. doi:10.1016/j.jmapro.2021.10.003
2020
Reza E Rabby M., K.A. Ross, M. Mcdonnell, and S.A. Whalen. 2020. "Numerical Simulation and Experimental Validation of Joint Performance in Aluminum-Steel Lap Welds Formed by Friction Stir Dovetailing." Journal of Materials Processing Technology 277. PNNL-SA-145070. doi:10.1016/j.jmatprotec.2019.116459
Wang T., P. Upadhyay, M. Reza E Rabby, X. Li, L. Li, A. Soulami, and K.S. Kappagantula, et al. 2020. "Joining of Thermoset Carbon Fiber Reinforced Polymer and AZ31 Magnesium Alloy Sheet Via Friction Stir Interlocking." International Journal of Advanced Manufacturing Technology 109, no. 3-4:689-698. PNNL-SA-149338. doi:10.1007/s00170-020-05717-9
2019
Reza E Rabby M., S.A. Whalen, K.A. Ross, and M. Mcdonnell. 2019. "Joining AA7099 to Ni-Cr-Mo Steel using Friction Stir Dovetailing." In Friction Stir Welding and Processing X, edited by Y Hovanksi, et al, 171-180. Cham:Springer. PNNL-SA-138056. doi:10.1007/978-3-030-05752-7_16
Ross K.A., M. Reza E Rabby, M. Mcdonnell, and S.A. Whalen. 2019. "Advances in Dissimilar Metals Joining through Temperature Control of Friction Stir Welding." MRS Bulletin 44, no. 8:613-618. PNNL-SA-144347. doi:10.1557/mrs.2019.181
Whalen S.A., M.J. Olszta, C. Roach, J.T. Darsell, D.D. Graff, M. Reza E Rabby, and T.J. Roosendaal, et al. 2019. "High Ductility Aluminum Alloy made from Powder by Friction Extrusion." Materialia 6. PNNL-SA-138614. doi:10.1016/j.mtla.2019.100260
2018
Reza E Rabby M., K.A. Ross, N.R. Overman, M.J. Olszta, M. Mcdonnell, and S.A. Whalen. 2018. "Joining Thick Section Aluminum to Steel with Suppressed FeAl Intermetallic Formation via Friction Stir Dovetailing." Scripta Materialia 148. PNNL-SA-131279. doi:10.1016/j.scriptamat.2018.01.026
2017
Reza E Rabby M., K.A. Ross, S.A. Whalen, Y. Hovanski, and M. Mcdonnell. 2017. "Solid-State Joining of Thick-Section Dissimilar Materials using a New Friction Stir Dovetailing (FSD) Process." In Friction Stir Welding and Processing IX, edited by Y Hovanksi, et al, 67-77. Cham:Springer International Publishing. PNNL-SA-119210. doi:10.1007/978-3-319-52383-5_8