Shwetha Niddodi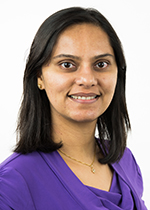 (509) 372-4947
Send Email
Biography
Shwetha Niddodi joined the Pacific Northwest National Laboratory as Post Master's Research Associate in May 2016. She was converted into full staff engineer in October 2016. Before joining PNNL, she worked as a software engineer for many years in a well-recognized software services company in India. At PNNL, she is part of the development team of VOLTTRON, which is an agent based distributed and sensing platform that provides integrated services for data collection, data monitoring and data archival of building devices, grid simulations, electric vehicles etc. Her activities involve refactoring the underlying message bus to improve performance, usability and scalability of the platform. She also works on other projects that involve integrating new SCADA communication protocols into existing grid co-simulation framework, developing methodology for safe autonomous vulnerability scanning of OT devices in electrical infrastructure.
Research Interests
Distributed software platforms that can support existing and future Buildings and Grid Simulation applications with focus on Distributed hierarchical control, Group/Cluster management, Group discovery, Fault tolerance
Cyber Security in Smart Grid
Education and Credentials
M. Science, Computer Engineering, Washington State University
B. Engineering, Electronics and Communication, Visvesvaraya Technological University, India
Affiliations and Professional Service
Member of the Institute of Electrical and Electronics Engineers
Awards and Recognitions
2017 PNNL Lab Director's Award for Exceptional Team Achievement in Science and Technology
PNNL Publications
2019
Bhattacharya A., S.G. Gourisetti, J. Hansen, W.J. Hofer, K. Kalsi, S. Kundu, and J. Lian, et al. 2019. Incentive-Based Control and Coordination of Distributed Energy Resources (NODES Final Report). PNNL-28724. Richland, WA: Pacific Northwest National Laboratory. Incentive-Based Control and Coordination of Distributed Energy Resources (NODES Final Report)
Edgar T.W., S. Niddodi, T.R. Rice, W.J. Hofer, G.E. Seppala, K.M. Arthur-Durett, and M. Engels, et al. 2019. "Safer and optimized vulnerability scanning for operational technology through integrated and automated passive monitoring and active scanning." Journal of Information Warfare 18, no. 4 (Special Edition):125-155. PNNL-SA-145717.
Selected Publications
2016
A. Mallikeswaran, T. Ashwarya, S. Niddodi, A. Srivastava, D. E. Bakken and P. Panciatici, "Cyber physical simulation and remote testing of Remedial Action Schemes," 2016 IEEE/PES Transmission and Distribution Conference and Exposition (T&D), Dallas, TX, 2016, pp. 1-5. doi: 10.1109/TDC.2016.7519984, URL: http://ieeexplore.ieee.org/stamp/stamp.jsp?tp=&arnumber=7519984&isnumber=7519846

H. Lee, S. Niddodi, A. Srivastava and D. Bakken, "Decentralized voltage stability monitoring and control in the smart grid using distributed computing architecture," 2016 IEEE Industry Applications Society Annual Meeting, Portland, OR, 2016, pp. 1-9. doi: 10.1109/IAS.2016.7731871, URL: http://ieeexplore.ieee.org/stamp/stamp.jsp?tp=&arnumber=7731871&isnumber=7731809