Lia Irvin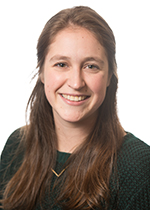 Pacific Northwest National Laboratory
Portland Office
620 SW FIFTH AVE, SUITE #810
Portland, OR 97204
(971) 940-7101
Send Email
Biography
Ms. Irvin joined PNNL in 2017 as an intern on the Solid State Lighting Advanced Research & Development Program. She was promoted to a Post Bachelors Research Associate in 2018.
She has been supporting the development of PNNL's Sky Glow evaluation tool, solid state lighting glare studies, circadian metric simulation, lighting flicker evaluations, and lighting quality and control evaluations in schools and hospitals.
Research Interests
Python Programming
Excel
Lighting Evaluation & Simulation
Education and Credentials
B.S., Physics, University of St. Andrews
PNNL Publications
2020
Miller N.J., and A.C. Irvin. 2020. "M/P Ratios-A Call for Consistency." LD+A Magazine 50, no. 2:12-14. PNNL-SA-152939.