Sarah Safranek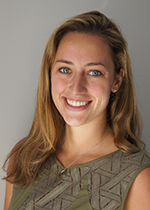 (503) 227-2467
Send Email
Biography
Sarah joined PNNL as a Lighting Research Associate in September of 2017. Prior to joining PNNL, Sarah contributed to research at the University of Colorado for the Architectural Engineering's Building Systems program with an emphasis on lighting. Her previous work experience involved the design of energy efficient lighting and daylighting systems. Sarah's work is currently is focused on conducting research on a range of technology and application topics surrounding advanced Solid State Lighting systems and technologies.
Research Interests
Lighting energy efficiency and sustainability
Daylighting Simulation and Analysis
Sustainable Building Design
Education and Credentials
M.S., Architectural Engineering, University of Colorado
B.S., Architectural Engineering, University of Colorado
PNNL Publications
2020
Davis R.G., L.J. McCunn, A. Wilkerson, and S.F. Safranek. 2020. "Nurses' Satisfaction with Patient Room Lighting Conditions: A Study of Nurses in Four Hospitals with Differences in the Environment of Care." Health Environments Research and Design 13, no. 3:110-124. PNNL-SA-145366. doi:10.1177/1937586719890940
Royer M.P., M. Wei, A. Wilkerson, and S.F. Safranek. 2020. "Experimental validation of color rendition specification criteria based on ANSI/IES TM-30-18." Lighting Research and Technology 52, no. 3:323-349. PNNL-SA-142381. doi:10.1177/1477153519857625
Safranek S.F., J.M. Collier, A. Wilkerson, and R.G. Davis. 2020. "Energy impact of human health and wellness lighting recommendations for office and classroom applications." Energy and Buildings 226. PNNL-SA-151604. doi:10.1016/j.enbuild.2020.110365
2019
Davis R.G., and S.F. Safranek. 2019. "Lessons in the classroom." LD+A Magazine 49, no. 5. PNNL-SA-141890.
2018