Kelly McHugh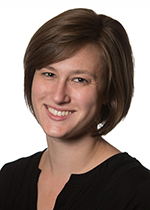 Pacific Northwest National Laboratory
PO Box 999
Richland, WA 99352
(509) 371-7723
Send Email
Biography
Dr. Kelly McHugh is a postdoctoral research associate with expertise in mass spectrometry and isotope geochemistry. Since joining PNNL in 2017, her work has focused on optimizing thermal ionization mass spectrometry (TIMS) for trace level isotope analyses of actinides and other elements (Sr, Nd, Pb, Cr, and more) as well as applications of these systems to environmental and nuclear forensics. She primarily works in the Multicollector Mass Spectrometry suite housed in 331. Her work with TIMS explores filament loading techniques to enhance ionization efficiencies for samples at the sub-picogram level. Additionally, she applies mass spectrometric techniques to understand the fate of contaminants in the environment and to support other group- and lab-wide projects. Dr. McHugh is a 2017 National Security Seminar Series participant and is heavily involved in projects that seek to explore fission product signatures in the environment and applications of nuclear archaeology and radiochronometry.
Dr. McHugh earned both her PhD and BS degrees in geology from Miami University (Oxford, Ohio). As a graduate student, she conducted research on Hayes Volcano (Alaska) to understand the source of magmatism and pre-eruptive processes using trace element and isotope geochemistry. Additionally, her dissertation included the evaluation of different environmental media as archives of contamination: (1) investigating the feasibility of using tree rings as records of uranium (U) contamination by measuring U concentrations and isotope ratios in multiple tree species and (2) determining the spatial distribution of cryptic U, thorium (Th), and other trace metals in lichen near a former DOE site. Her dissertation work relied heavily on TIMS analyses. Additionally, she interned at Lawrence Livermore National Laboratory as a graduate student (2016) doing methods verification (elemental separations and multi-collector inductively coupled plasma mass spectrometry) to provide assurance of the efficacy of Th-U and protactinium (Pa)-U dating methods used in nuclear forensic investigations.
Research Interests
Trace element and isotope geochemistry
Mass spectrometry
Nuclear forensics
Environmental contamination
Radiochemistry
Igneous petrology
Education and Credentials
Ph.D., Geology, 2017, Miami University
B.S., Geology, 2011, Miami University
Affiliations and Professional Service
Geological Society of America
Geochemical Society
Awards and Recognitions
2018 - National Security Seminar Series Participant
PNNL Publications
2021
McHugh K.C., and E.J. Krogstad. 2021. "Enhanced Pu Emission with Solution-Loaded Laser Ablation Modified Sources (SLLAMS) for Thermal Ionization Mass Spectrometry." International Journal of Mass Spectrometry 459. PNNL-SA-151753. doi:10.1016/j.ijms.2020.116471
2018
McHugh K.C., E. Widom, H.B. Spitz, G.C. Wiles, and S.e. Glover. 2018. "Uranium mobility across annual growth rings in three deciduous tree species." Journal of Environmental Radioactivity 182. PNNL-SA-130621. doi:10.1016/j.jenvrad.2017.10.021
Treinen K.C., A.M. Gaffney, J.M. Rolinson, K.M. Samperton, K.C. McHugh, R. Williams, and M.M. Miller. 2018. "Improved protactinium spike calibration method applied to 231Pa-235U age-dating of certified reference materials for nuclear forensics." Journal of Radioanalytical and Nuclear Chemistry 318, no. 1:209-219. PNNL-SA-137585. doi:10.1007/s10967-018-6149-x
Selected Publications
2017
Rolison, John M., Treinen, Kerri C., McHugh, Kelly C., Gaffney, Amy M., Williams, Ross W. (2017). Application of the 226Ra-230Th-234U and 227Ac-231Pa-235U radiochronometers to uranium certified reference materials. Journal of Radioanalytical and Nuclear Chemistry.
2015
McHugh, Kelly C., Widom, Elisabeth, Spitz, Henry B., Glover, Sam E. (2015). Analysis of a sugar maple tree cores for monitoring environmental uranium contamination. Journal of Radioanalytical and Nuclear Chemistry 307 (1691). doi: 10.1007/s10967-015-4369-x
2011
Wypych, A., Hart, W.K., Scarberry, K., McHugh, K., Pasquale, S., and Legge, P. (2011). Geologic Map of the Hawks Valley-Lone Mountain Region, Harney County, Oregon. Oregon Department of Geology and Mineral Industries, Open-File Report O-11-12.