Kendall Mongird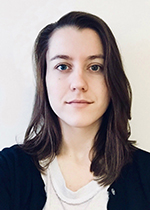 Pacific Northwest National Laboratory
Portland Office
620 SW FIFTH AVE, SUITE #810
Portland, OR 97204
(971) 940-7102
Send Email
Biography
Kendall joined the Energy Policy & Economics Group at Pacific Northwest National Laboratory (PNNL) in 2017. She is currently a Post-Graduate Research Associate and contributes to projects focused on evaluating the benefits of microgrids and energy storage systems. She holds a BS in Quantitative Economics from California Polytechnic State University and an MSc in Economics from the University of Edinburgh, where she graduated with honors.
Research Interests
Industrial Organization
Benefit-Cost Analysis
Environmental Assessment and Evaluation
Renewable Energy Analysis
Education and Credentials
B.S., Quantitative Economics, California Polytechnic State University, San Luis Obispo, California, 2015
M.S., Economics, University of Edinburgh, United Kingdom, 2016
PNNL Publications
2019
2018
Viswanathan V.V., A.J. Crawford, M.E. Alam, P.J. Balducci, D. Wu, T.D. Hardy, and K. Mongird. 2018. Snohomish Public Utility District: An Assessment of Battery Technical Performance. PNNL-27237. Richland, WA: Pacific Northwest National Laboratory.
2017
Alam M.E., P.J. Balducci, V.V. Viswanathan, A.J. Crawford, D. Wu, T.D. Hardy, and K. Mongird. 2017. "CONTROLLING ENERGY STORAGE SYSTEMS: LESSONS LEARNED FROM THE WASHINGTON CLEAN ENERGY FUND DEMONSTRATION PROJECTS." In Electrical Energy Storage Applications and Technologies (EESAT 2017), October 11-13, 2017, San Diego, CA. Albuquerque, New Mexico:Sandia National Laboratories. PNNL-SA-131851.
Balducci P.J., M.E. Alam, V.V. Viswanathan, D. Wu, A.J. Crawford, K. Mongird, and M.R. Weimar, et al. 2017. "An Economic Assessment of Portland General Electric's Salem Smart Power Center Energy Storage System." In Electrical Energy Storage Applications and Technologies (EESAT 2017), October 11-13, 2017, San Diego, CA. Albuquerque, New Mexico:Sandia National Laboratories. PNNL-SA-129062.
Balducci P.J., M.E. Alam, V.V. Viswanathan, D. Wu, A.J. Crawford, K. Mongird, and M.R. Weimar, et al. 2017. The Salem Smart Power Center: An Assessment of Battery Performance and Economic Potential. PNNL-26858. Richland, WA: Pacific Northwest National Laboratory. doi:10.2172/1406263.The Salem Smart Power Center: An Assessment of Battery Performance and Economic Potential