Mark Borkum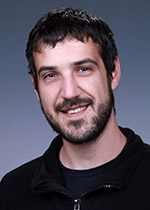 Pacific Northwest National Laboratory
PO Box 999
Richland, WA 99352
(509) 371-7211
Send Email
Biography
Mark Borkum, M.Eng., Ph.D., is a computer scientist at Pacific Northwest National Laboratory (PNNL), Richland, WA. His work focuses on the usage and application of computer science and software engineering techniques and technologies to enable and to support interdisciplinary research.
Mark is the software architect, lead software developer and lead data scientist for the Unique Building Identification (UBID) project. He is also a software developer for the Building Energy Asset Score research project, focusing on the implementation of the project's BuildingSync import and export capabilities.
Research Interests
Computer science and software engineering
Computational biology
Knowledge representation and management
Education and Credentials
Ph.D. Chemistry, University of Southampton, UK, 2013
M.Eng. Computer Science, University of Southampton, UK, 2008
Affiliations and Professional Service
American Chemical Society (ACS), Member, 2013—present.
Awards and Recognitions
2018 Incubating Market-Propelled Entrepreneurial-mindset at the Labs (IMPEL) by U.S. Department of Energy (DOE) Building Technologies Office (BTO).
2010 European Laboratory Robotics Interest Group (ELRIG) Technology Award.
2009 Worldwide Universities Network (WUN) Research Mobility Award.
PNNL Patents
U.S. Patent No. 11,144,523, October 12, 2021, "METHODS AND DATA STRUCTURES FOR EFFICIENT CROSS-REFERENCING OF PHYSICAL-ASSET SPATIAL IDENTIFIERS".
U.S. Patent No. 11,068,545, July 20, 2021, "SPATIAL IDENTIFICATION OF ASSETS USING N-DIMENSIONAL ASSET IDENTIFIERS".
PNNL Publications
2023
Bereta dos Reis F., D.J. Sebastian Cardenas, M.I. Borkum, H.M. Reeve, and M. Mukherjee. 2023. Blockchain for Fault-Tolerant Grid Operations. PNNL-33981. Richland, WA: Pacific Northwest National Laboratory. Blockchain for Fault-Tolerant Grid Operations
Bereta dos Reis F., M.I. Borkum, M. Mukherjee, and D.J. Sebastian Cardenas. 2023. "Distributed Ledger Technology for Fault Tolerant Distribution Grid Operations." IEEE Access 11. PNNL-SA-184904. doi:10.1109/ACCESS.2023.3287831
2022
Eloe-Fadrosh E., F. Ahmed, F. Anubhav, M. Babinski, J. Baumes, M.I. Borkum, and L.M. Bramer, et al. 2022. "The National Microbiome Data Collaborative Data Portal: an integrated multi-omics microbiome data resource." Nucleic Acids Research 50, no. D1:D828-D836. PNNL-SA-165796. doi:10.1093/nar/gkab990
Sebastian Cardenas D.J., S. Gourisetti, P. Wang, J.J. Smith, M.I. Borkum, and M. Mukherjee. 2022. Smart Contract Architectures and Templates for Blockchain-based Energy Markets (V1.0). PNNL-32687. Richland, WA: Pacific Northwest National Laboratory. Smart Contract Architectures and Templates for Blockchain-based Energy Markets (V1.0)
2020
Wood-Charlson E.M., F. Anubhav, D.L. Auberry, H. Blanco, M.I. Borkum, Y. Eberlim de Corilo, and K.W. Davenport, et al. 2020. "The National Microbiome Data Collaborative: Enabling Microbiome Science." Nature Reviews Microbiology 18, no. 6:313-314. PNNL-SA-152551. doi:10.1038/s41579-020-0377-0
2019
Wang N., E. Vlachokostas, M.I. Borkum, H. Bergmann, and S. Zaleski. 2019. "Unique Building Identifier: A Natural Key for Building Data Matching and its Energy Applications." Energy and Buildings 184. PNNL-SA-132556. doi:10.1016/j.enbuild.2018.11.052
2018
Yesiltepe Y., J. Nunez, S.M. Colby, D.G. Thomas, M.I. Borkum, P.N. Reardon, and N.M. Washton, et al. 2018. "An automated framework for NMR chemical shift calculations of small organic molecules." Journal of Cheminformatics 10. PNNL-SA-137588. doi:10.1186/s13321-018-0305-8
2017
Borkum M.I., P.N. Reardon, R.C. Taylor, and N.G. Isern. 2017. "Modeling Framework for Isotopic Labeling of Heteronuclear Moieties." Journal of Cheminformatics 9, no. 1:Article No. 14. PNNL-SA-121041. doi:10.1186/s13321-017-0201-7