Ben Feagin Jr.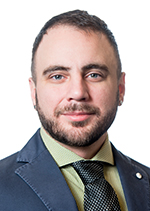 Pacific Northwest National Laboratory
Portland Office
620 SW FIFTH AVE, SUITE #810
Portland, OR 97204
(509) 375-6397
Send Email
Biography
Mr. Feagin joined the staff of PNNL in 2018. Previous to PNNL, Mr. Feagin has held positions as a Lighting Designer & Controls Engineer at Eos Lightmedia and an Application Engineering Manager, Project Director, and Director of Business Technology at Optics Arts, a Lighting Manufacturer. His previous work has given him significant experience in the development of electronics and software in development of a complete Internet of Things (IoT) indoor environmental quality sensor network for which he was awarded two patents. He has also led the operations of a university research chemistry laboratory focused on air quality sensor calibration, testing, and experimental data acquisition at Rensselaer Polytechnic Institute (RPI). As part of his work at RPI, Mr. Feagin was responsible for a lab's safety programs and infrastructure developments required to facilitate work with aerosols, electronics, plants, soil, custom biological and non-biological experimental apparatuses, and gas chromatography.
He has successfully produced award-winning examples of Internet of Things (IoT) lighting and air quality sensor networks in his studies and professional work, with the intention of these developments furthering his interest in work with Life Support Systems. He has experience leading teams of researchers and students, and is an experienced software developer of Customer Relationship Management (CRM), Material Requirements Planning (MRP), process flow, finance, sales, and Key Performance Indicator (KPI) tools and processes.
Research Interests
Lighting and Lighting Control Systems.
Internet of Things (IoT)
DC Microgrids
Life Support Systems (Buildings and Off-World Colonies)
Education and Credentials
Master of Science (MS), Architectural Science - Rensselaer Polytechnic Institute
Bachelor of Fine Arts (BFA), Theater Design & Production - University of British Columbia
Lighting Certified (LC)