Paul Francik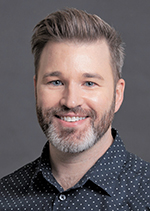 Pacific Northwest National Laboratory
PO Box 999
Richland, WA 99352
(509) 375-6520
Send Email
Biography
Paul is an Associate Cybersecurity Analyst who joined PNNL in 2019. He received his B.A.S. in Cybersecurity from Columbia Basin College, recognized by the National Security Agency and Homeland Security as a national center of academic excellence (CAE2Y) in the field of Information Assurance and Cyber Defense Education.
His current research efforts supported by the Department of Energy Solid-State Lighting program focus on building use cases, designing threat profiles, and conducting vulnerability assessments on Connected Lighting System technologies and other IoT applications.
Previous experience includes running his own business as a hairstylist, working as a chemical technologist on the Hanford site at the Waste Sampling and Characterization Facility, operating his own photography business and running social media campaigns while writing professional blogs for other businesses and individuals implementing strategies to improve their SEO rankings.
Paul has always been drawn to the arts and sciences and has managed to keep his feet in both disciplines, often combining technical skill and artful presentation.
Currently Paul is working with the Advanced Lighting Team on Connected Lighting Systems characterizing and assessing vulnerabilities in an effort to educate lighting industry stakeholders on how to make their systems more resilient and robust to outside threats.
Research Interests
Threat Profiling for various system architectures and physical spaces
Vulnerability assessments
Connected lighting systems
IoT devices and integrations
Social engineering
Physical Access Control
Education and Credentials
A.A., Columbia Basin College
B.A.S., Cyber Security, Columbia Basin College
Awards and Recognitions
2019 Red Team member for DOE CyberForce competition focusing on the defensive/hardening nature of energy cyber infrastructure
2019 Guest speaker at Columbia Basin College's Presidential Leadership Breakfast.
2015-2019 Columbia Basin College Foundation Scholarship recipient
PNNL Publications
2023
Francik P.D., T.D. Ashley, and M.E. Poplawski. 2023. "Connecting the Dots: An Assessment of Cyber-risks in Networked Building and Municipal Infrastructure Systems." In Proceedings of the 56th Hawaii International Conference on System Sciences (HICSS 2023), January 3-6, 2023, Maui, HI, 6108-6117. Honolulu, Hawaii:University of Hawaii at Manoa. PNNL-SA-175865.
2022
Bays R.M., J.H. Bigler, A.E. Chastain, P.D. Francik, C.L. Himes, E.E. Lancaster, and D.E. Nodine, et al. 2022. FIC Vulnerability Profile. PNNL-32881. Richland, WA: Pacific Northwest National Laboratory. FIC Vulnerability Profile
Bigler J.H., A.E. Chastain, P.D. Francik, C.L. Himes, D.E. Nodine, E.E. Lancaster, and P.J. O'Connell, et al. 2022. FIC Threat Profile: Provided by Shamrock Cyber. PNNL-33190. Richland, WA: Pacific Northwest National Laboratory. FIC Threat Profile: Provided by Shamrock Cyber
Francik P.D., M.E. Poplawski, S. Gourisetti, P.J. O'Connell, C.R. Younkin, T.D. Ashley, and G.E. Seppala. 2022. A Cybersecurity Threat Profile for a Connected Lighting System. PNNL-31958. Richland, WA: Pacific Northwest National Laboratory. A Cybersecurity Threat Profile for a Connected Lighting System