David Hume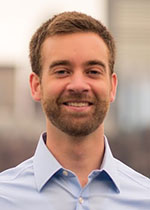 (509) 375-7245
Send Email
Biography
David is a life-long ocean lover. His work experience covers numerous sectors within the Blue Economy, including: defense, ocean observation, and offshore energy. As a professional merchant mariner, David served as a front-line engineer manager overseeing operation and maintenance of propulsion and power plants aboard large merchant vessels and was fortunate to have sailed through every ocean and visited every continent by ship. Later, while working at a marine technology startup, David operated and piloted a fleet of semi-autonomous wave-powered robots that revolutionized oceanographic data collection. Currently, he supports the U.S. Department of Energy's Water Power Technologies Office on marine renewable energy research and development in collaboration with startups, national labs, and academia.
David is a strong advocate for ocean (technology) literacy and writes frequently on marine technology and other issues relating to the Blue Economy. His writing has been featured on Axios News, The Maritime Executive, SEVENSEAS, the MIT Energy Club, Ocean Exchange, The Economist World Ocean Initiative, and the International Energy Agency Ocean Energy Systems.
Research Interests
Ocean technology
energy
sustainability
More specific interests include maritime emission reductions, offshore renewables, ocean plastic remediation, and ocean based carbon capture and sequestration.
Education and Credentials
BS, Marine Engineering Systems, US Merchant Marine Academy
MSci, Mechanical Engineering, MIT School of Engineering
MBA, MIT Sloan School of Management,
Sustainability Certificate, MIT Sloan School of Management
Merchant Mariner Credential, Second Assistant Engineer License, Unlimited Horsepower issued by US Coast Guard
Lieutenant Commander, U.S. Navy Reserves Strategic Sealift Officer Program
Affiliations and Professional Service
Marine Technology Society
Society of Naval Architects and Marine Engineers
PNNL Publications
2020
Cavagnaro R.J., C. Matthews, D.L. Hume, R. Raye, A.E. Copping, and D.S. Jenne. 2020. "Enabling Marine Energy Integration for Ocean Observing: Functional Requirements." In Global Oceans 2020: Singapore - U.S. Gulf Coast, October 5-30, 2020, Biloxi, MS, 01-07. Piscataway, New Jersey:IEEE. PNNL-SA-155589. doi:10.1109/IEEECONF38699.2020.9389228