Kate Hickcox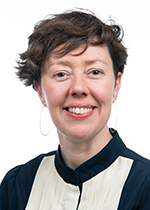 (971) 940-7119
Send Email
Biography
Kate Hickcox joined PNNL in 2020. She is a creative thinker with over 20 years of experience in lighting, research and design. Kate's work focuses on sustainability, which means considering the complex aesthetic, technical, visual, and non-visual needs of people while at the same time equitably benefiting the economy, society, and the environment. Kate's unique background blends the artistic with the practical and allows for discovery of unique design solutions and innovative research-based strategies. Her work at PNNL includes supporting Energy Equity and Justice in Systems Technology work, leading decarbonization and circularity efforts for lighting and other mechanical and electrical systems, and work in outdoor nighttime lighting. She has authored or co-authored many technical publications/reports and has presented at LightFair International, IALD, LEDucation, the CIE and the IES on topics including sustainability, life cycle assessment, subjective rating scales, designing for darkness, glare and brightness perception, lighting, and acoustics as well as lighting quality metrics.
Kate has been a guest critic and speaker at Rhode Island School of Design, Parsons/The New School, and Rensselaer Polytechnic Institute Architecture Department. She has taught at The New School, Parsons' School of Constructed Environments and was also the Lighting Fellow for 'Opening the Edge', a project of the Design Trust for Public Space, in partnership with the New York City Housing Authority; proposed by Jane Greengold.
She is currently a member of the IES Standards Committee, member of the ASHRAE Building Decarbonization Whole Life Design Guide working group, Secretary of the IES Technical Committee: Discomfort Glare in Outdoor Nighttime Environments and a contributing member of the IES Sustainability Committee.
Research Interests
Lighting energy efficiency & sustainability
Equitable use of lighting
Health effects of light and light quality
Lighting effects in outdoor nighttime environments
Energy equity and energy justice
Education and Credentials
M.S., Lighting from Rensselaer Polytechnic Institute
B.F.A., Furniture from Rhode Island School of Design
Lighting Certified (LC), NCQLP
Affiliations and Professional Service
Member - Illuminating Engineering Society (IES)
Member - International Association of Lighting Designers (IALD)
Secretary - IES Discomfort Glare in Outdoor Nighttime Environments Committee
Treasurer - IES Maine Section
Member – IES Standards Committee
Awards and Recognitions
2021 IES Standards & Research Award
2019 IALD goes WILD 2019 Featured Project. Electric Garden Recording Studio
2016 Lighting Fellow for the Design Trust for Public Space, Opening the Edge
2011 Shemitz Scholarship Winner, the Lighting Quotient
PNNL Publications
2022
Hickcox K.S., and A. Smith. 2022. "Strategies for achieving circular economy goals in the lighting industry through design for disassembly- based methodologies." In IOP Conference Series: Earth and Environmental Science, The 8th International Light Symposium: Re-thinking Lighting Design in a Sustainable Future (Light Symposium 2022) September 21-23, 2022, Copenhagen, Denmark, 1099, Art. No. 012004. London:Institute of Physics. PNNL-SA-172377. doi:10.1088/1755-1315/1099/1/012004
Hickcox K.S., S. Fotios, B.K. Abboushi, and N.J. Miller. 2022. "Correspondence: A new two-step approach for evaluating discomfort from glare." Lighting Research & Technology 54, no. 1:91-92. PNNL-SA-167574. doi:10.1177/14771535211071133