Christian Valoria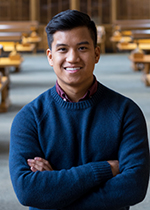 (971) 940-7130
Send Email
Biography
Christian joined PNNL in 2021 as a Senior Associate Building Systems Engineer. After obtaining a foundational understanding of building systems through his experience designing HVAC systems for commercial buildings in the San Francisco Bay Area and Seattle, Christian tailored his graduate coursework at the University of Washington to develop pertinent research tools such as life cycle cost analysis, life cycle assessment, and data science. As an Environmental Defense Fund Climate Corps Fellow in 2020, Christian analyzed monitoring data from hybrid central heat pump water heating systems (hybrid HPWH) installed at several multifamily buildings in the Bay Area. As part of this research, he characterized the operation and field performance of hybrid HPWHs, identified system improvement opportunities, and investigated how hybrid HPWH systems could accelerate California's building decarbonization goals. Christian is passionate about researching and developing economically viable and equitable building energy efficiency and decarbonization solutions.
Research Interests
Building Electrification & Decarbonization
Life Cycle Costing & Life Cycle Assessment
Residential and Commercial Building Energy Efficiency
Energy Efficiency Program Design and Implementation
Advanced Heat Pump Technologies
Education and Credentials
M.S., Mechanical Engineering, University of Washington (expected March 2020)
B.S., Mechanical Engineering, California Polytechnic State University, San Luis Obispo
Professional Engineer (PE)
Affiliations and Professional Service
PNNL Publications
2022
Butzbaugh J.B., E. Hallas, E. Turner, and C.R. Valoria. 2022. "Cold-Climate Packaged Heat Pumps - Resistance is Futile." In 2022 ACEEE Summer Study on Energy Efficiency in Buildings: Climate Solutions: Efficiency, Equity and Decarbonization, August 21-26, 2022, Monterey, CA, 3-88 - 3-99. Washington, Dc:American Council for an Energy Efficiency Economy. PNNL-SA-174196.