Terry Liikala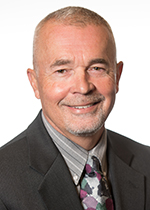 Pacific Northwest National Laboratory
PO Box 999
Richland, WA 99352
(509) 372-4148
Send Email
Biography
Terry Liikala is the Technical Group Manager for the Environmental Systems Group at Pacific Northwest National Laboratory. This group is responsible for advancing science and technology for in situ environmental characterization, monitoring, and remediation. Key sponsors include the Department of Energy, Department of Defense, the Environmental Protection Agency, and private industry.
As the Environmental Systems group manager, Terry stewards distinctive capabilities in the areas of:
novel approaches for addressing complex subsurface systems,
developing biogeochemical technologies for recalcitrant contaminant issues,
integrating hydrologic system analysis for in-situ applications,
addressing field-scale technology implementation challenges, and
advancing analytical capabilities for subsurface applications.
Successful outcomes include laboratory understanding and performance assessment modeling of contaminant behavior and transport, demonstration of innovative remediation approaches for the vadose zone and groundwater, and development of site-specific to national remediation guidance. He oversees 25 staff and several students as well as 12 physical, wet chemistry, radiological, and microbiological labs.
In addition to managing the Environmental Systems Group, Terry is integral to deployment of engineered systems for nuclear material detection and interdiction for the Department of Homeland Security. Prior to becoming group manager, he managed increasingly diverse and complex projects dealing with selection of alternate resins for pretreatment of high-level wastes, pipeline characterization using tracers, demonstration of novel environmental technologies, remedial investigations and feasibility studies, groundwater monitoring, and hydrogeologic characterization.
Research Interests
Hydrogeologic characterization
Soil and groundwater contamination and remediation
Nuclear detection and interdiction
Education and Credentials
M.S., University of Idaho, Hydrology, 1993
B.A., Washington State University, Foreign Languages and Literatures (Russian major), 1986
B.S., Washington State University, Geology, 1982
Affiliations and Professional Service
State of Washington Licensed Geologist, Hydrogeologist
Association of Ground Water Scientists and Engineers of the National Ground Water Association
PNNL Publications
2003
Devary J.L., P.J. Bengtson, J.W. Graybeal, M.J. Truex, J.S. Fruchter, T.L. Liikala, and D.L. Greenslade. 2003. "PNNL Continues Progress in Cleanup Technology Development at DOE Labs." Environmental Business Journal XV, no. 9/10:30-31. PNNL-SA-37921.
2002
Cameron R.J., J.C. Evans, M.D. Johnson, and T.L. Liikala. 2002. Summary of Hanford Subsurface Air Flow and Extraction (SAFE) Activities for Fiscal Year 2001. PNNL-13820. Richland, WA: Pacific Northwest National Laboratory.
Newcomer D.R., E.C. Thornton, and T.L. Liikala. 2002. Groundwater Chemistry and Hydrogeology of the Upper Saddle Mountains Basalt-Confined Aquifer South and Southeast of the Hanford Site. PNNL-14107. Richland, WA: Pacific Northwest National Laboratory.
2000
Cantrell K.J., T.L. Liikala, D.L. Strenge, and R.Y. Taira. 2000. Decision Document for the Storm Water Outfalls/Industrial Wastewater Treatment Plant, Pesticide Rinse Area, Old Fire Fighting Training Pit, Illicit PCB Dump Site, and the Battery Acid Pit Fort Lewis, Washington. PNNL-13413. Richland, WA: Pacific Northwest National Laboratory.
Vermeul V.R., M.D. Williams, J.C. Evans, J.E. Szecsody, B.N. Bjornstad, and T.L. Liikala. 2000. In Situ Redox Manipulation Proof-of-Principle Test at the Fort Lewis Logistics Center: Final Report. PNNL-13357. Richland, WA: Pacific Northwest National Laboratory.
1999
Last G.V., L.M. Bagaasen, T.J. Gilmore, N.P. Kohn, C.D. Johnson, D.C. Lanigan, and T.L. Liikala, et al. 1999. Surface Water-Sediment Feasibility Study Report for the McCormick and Baxter Superfund Site, Stockton, California. PNNL-11931. Richland, WA: Pacific Northwest National Laboratory.