Foam Gains Ground as a Solution for Vadose Zone Contamination
An innovative Pacific Northwest National Laboratory-developed foam technology for remediating soils and protecting ground water is on track for intermediate-scale testing in 2012, followed by a proposed field treatability test in 2013. Researchers are optimistic the tests will confirm the technology's promise as a solution for vadose zone contamination at the Hanford Site in Eastern Washington and other locations.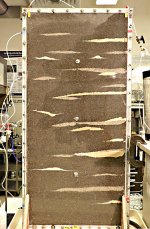 Remediation of the vadose zone—or the area between the surface and the ground water table—is a priority, as contaminated soils within the zone represent a long-term threat to the ground water below. However, feasible and cost-effective solutions have yet to emerge.
The PNNL technology combines a gas with a surfactant to make foam, and depending on the application, both the gas and surfactant/liquid mixture can contain contaminant remediation agents. "The foam serves as a delivery mechanism," explains PNNL scientist Lirong Zhong. Zhong has played a leading role in developing the technology.
Foam delivery of remedial amendments potentially achieves more uniform and extended distribution of the remedial amendment within the contaminated zones, therefore improving remediation efficiency. The foam also prevents contaminants from being pushed farther down into the vadose zone, which often happens when liquid treatments are used, leading to contamination of underlying ground water.
The oil and gas industry has used foam for years to recover oil. Zhong effectively "re-purposed" the concept for delivering remedial amendments to vadose zone contamination, and now DOE's Office of Environmental Management (EM) believes the approach could transform subsurface vadose zone remediation.
The technology will be a focal point for the Deep Vadose Zone Applied Field Research Initiative at PNNL, one of three new DOE national initiatives focused on cleanup solutions. PNNL's Dawn Wellman is leading the initiative and is excited about the foam technology and its progress. "The technology started as an internal PNNL project in 2007, received investment from DOE-EM, and now the treatability test at Hanford is proposed for next year. To do all of that in four years—that's just very fast," she says.
Zhong points out that while EM at least initially wants PNNL to focus the technology on addressing technetium and uranium contamination, in the future it likely will be possible to tailor the foam to deal with a range of different contaminants.