Energy Efficiency and Renewable Energy About
Enabling the efficient use of energy resources, reducing petroleum consumption, and accelerating the use of renewable sources of electricity covers a broad spectrum – buildings, biomass, and vehicles – all of which have different challenges. We bring an equally diverse set of capabilities and expertise to these challenges.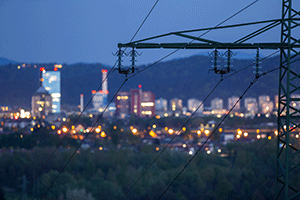 Buildings account for about 40 percent of our nation's energy use and nearly 40 percent of our carbon dioxide emissions. With over three decades of experience in buildings energy, we deliver energy savings in all stages of buildings-related research, technology development, and deployment.
Our contributions are dramatically improving the energy efficiency of new and existing buildings and reducing their environmental footprint. Some of our work includes:
Join our mailing list to stay informed on our work in building technologies.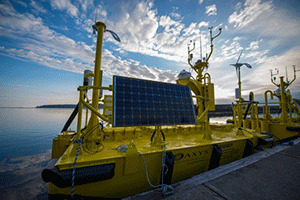 Our country is investing in clean energy technologies that harness renewable sources of electricity. At PNNL, we are accelerating the use of renewable energy in these areas:
Hydropower: We leverage our expertise in fish passage, turbine design, grid integration, and basin scale assessment to improve the efficiency and environmental performance of the nation's largest source of renewable energy. Hydropower provides 6-8 percent of electricity in the United States, but to be successful in the future, new and existing hydropower systems need to be more efficient, more cost effective, and environmentally sustainable.
Wave & Tidal Power: Forces created by the ocean have the potential to produce 25 perfect of the electricity used annually in the United States. Our researchers are helping to mature marine and hydrokinetic energy as a viable renewable energy option by developing precise and efficient means for measuring energy potential.
Solar Power: We are providing key breakthroughs in solar technology through new projects in thin film photovoltaics and thermal storage for concentrating solar power.
Geothermal Energy: Our subsurface modeling capabilities help characterize potential geothermal energy sites and evaluate their capacity for long-term energy production. We have also developed technologies for capturing, extracting, and converting heat from untapped geothermal sources. Finally, we are leveraging our carbon capture and sequestration work to understand the geochemistry of carbon dioxide to potentially combine CO2 sequestration with enhanced geothermal systems.
Wind Power: We leverage our expertise in environmental sciences, atmospheric sciences, and grid management to develop tools and methodologies that enable a high penetration of variable generation into our grid system. We explore wind resource characterization through research projects and collaborative efforts, demonstrate an R&D approach to assessing environmental effects, and use our unique facilities and key partnerships for offshore wind energy.
Join our mailing list to stay informed on our work in renewables.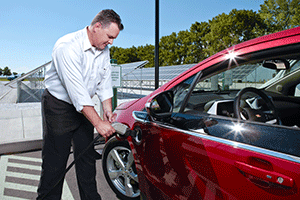 Widespread use of petroleum among vehicles, planes, trains, and ships continues to harm our environment. As a whole, the transportation sector accounts for about one third of our nation's greenhouse gas emissions. At PNNL, we are committed to enabling the reduction of petroleum use with innovative ideas and approaches. Our work includes:
Join our mailing list to stay informed on our work in vehicle technologies and biofuels.